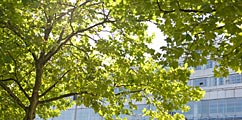 Herr Prof. Dr. Kayvan Bozorgmehr: Kontakt
Modulverantwortlicher für
Curriculum Vitae
Key activities / research fields
• Health services research with a focus on social epidemiology
• Health of forced migrants
• Global health
• Health systems research
Kayvan Bozorgmehr is a medical doctor with expertise in social epidemiology and health services research. He was appointed full professor in public health and Head of Department of Population Medicine and Health Services Research at Bielefeld University in March 2019. He graduated in medicine at Frankfurt University, obtained his medical doctorate (Dr. med.) from the Institute for Social Medicine, Epidemiology and Health Economics, Charité University Medicine Berlin, and completed a postgraduate Master of Science in Public Health at Umeå University in Sweden.
Between 2012 and 2019, he built up the Social Determinants, Equity and Migration Group at the Department of General Practice and Health Services Research at the University Hospital Heidelberg, which he still heads as secondary affiliation. In this role, he leads the RESPOND project (www.respond-study.org) funded by the Federal Ministry for Education and Research (BMBF) and the PRICARE project (www.pri.care) funded by the Federal Ministry of Health (BMG).
His scientific interests are in the area of structural, social and economic determinants of health and health system organization, with a particular focus on equity aspects, migration and transnational interdependencies. Kayvan Bozorgmehr leads several large-scale research projects on health and health care for asylum seekers and refugees and has published extensively on this topic.
He is an internationally acknowledged expert in the field of refugee health and has worked as consultant to the International Organization for Migration (IOM) and the World Health Organization (WHO) Regional Office for Europe. He is a member of the "Working Group on Migration and Public Health" at the German Federal Chancellor's Office in Berlin (Bundeskanzleramt) and member of the Advisory Board at the Robert Koch-Institute (Germany's National Public Health Institute) on the IMIRA project (Improving Health Monitoring in Migrant Populations). He is further a member of "Health Systems Global" and the German Society for Epidemiology (DGEpi), an editorial board member of BMC Health Services Research and reviewer for leading international journals ("The Lancet Global Health, BMJ, BMJ Open, BMJ Global Health, Bulletin of the WHO, Social Science & Medicine, International Journal of Epidemiology, Global Health Action, Globalization and Health, Oxford Journal of Public Health"). He has received the Stephan-Weiland Prize of the German Society for Epidemiology (2015) and the Ferenc-Boyan Young Investigator Award of the European Public Health Association (2016).