uni.news
Published on 26. Februar 2018
International research project on the border between physics and chemistry
[Weiterlesen]
Posted by JBömer
in General
Published on 22. Februar 2018
Bielefeld University organizing international conference on optical nanoscopy (ICON)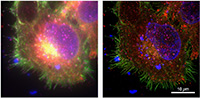 The US-American Nobel Prize winner Professor William E. Moerner together with more than 150 researchers and companies from all over the world will be attending the International Conference on Nanoscopy (ICON 2018) in Bielefeld from the 27th of February till the 2nd of March. The latest developments in the field of optical nanoscopy and their application in biology and biomedicine will be discussed at the meeting. Bielefeld University's Faculty of Physics is organizing the conference together with the Gesellschaft zur Förderung des Forschungs- und Technologietransfers (GFT e.V.) and the company Bionano-Solutions. It will be held in the conference rooms of the Bielefeld University of Applied Sciences.
[Weiterlesen]
Posted by NLangohr
in General
Published on 19. Februar 2018
Federal Health Minister Gröhe: "With this roadmap, we can achieve a great deal."

Every second person in Germany has only limited health literacy. It is hard for them to understand and evaluate health-related information. A team of experts from academia and the healthcare field, led by Doris Schaeffer and Ullrich Bauer from the University of Bielefeld, Klaus Hurrelmann from the Hertie School of Governance and Kai Kolpatzik from the AOK national association (AOK-Bundesverband), want to combat this deficit with a "National Action Plan for Health Literacy". The plan offers 15 concrete recommendations involving all the relevant actors, and aims to make the healthcare system more user-friendly and promote citizens' health literacy. The "National Action Plan for Health Literacy" is an initiative of the academics and is sponsored by the Federal Minister of Health. The Robert Bosch Foundation and the AOK-Bundesverband funded the work.
[Weiterlesen]
Posted by JBömer
in General
Published on 26. Januar 2018
University Society awards Dissertation Prizes
On the 23rd of January, the Bielefeld University Society (UGBi) awarded Dissertation Prizes to young academics at Bielefeld University: the award goes to the best doctoral thesis of 2017 in each faculty. All 17 theses proposed by the faculties had received the highest classification of 'summa cum laude'. This is the first time so many prizes have been awarded, and also the first time a prize winner has come from the Bielefeld School of Education (BiSED).
[Weiterlesen]
Posted by NLangohr
in General
Published on 5. Januar 2018
Bielefeld biochemists confirm cause of initially unclear symptoms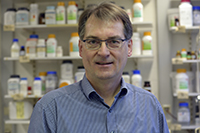 The sequencing of the human genome has made it possible: nowadays scientists can discover potential disorders for which there are no known patients. Such a disorder is 'MPS III-E', originally also called 'Dierks's disorder' after its discoverer. Doctors at the Hadassah-Hebrew University Medical Center in Jerusalem (Israel) found consistent symptoms of progressive blindness in three patient families that indicated the presence of a previously unknown genetic defect. Genome analyses at the University of Lausanne (Switzerland) delivered a candidate gene on which Professor Dr. Thomas Dierks from Bielefeld University had already published a research article in 2012. Studies by Dierks' research team now revealed that these patients indeed suffer from 'MPS III-E'. The researchers are now presenting their analysis in the journal 'Genetics in Medicine', published by the Nature Publishing Group.
[Weiterlesen]
Posted by JHeeren
in General
Published on 4. Januar 2018
Bielefeld University coordinating pan-European project with six partners

[Weiterlesen]
Posted by JBömer
in General
Published on 2. Januar 2018
CITEC Cluster of Excellence Project Accelerates Avatar Generation
[Weiterlesen]
Posted by JBömer
in General
Published on 15. Dezember 2017
'research_tv' presents Bielefeld research on Nobel Prize topic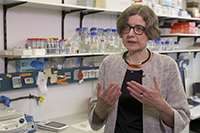 On Sunday (10.12.2017), the Americans Jeffrey C. Hall, Michael Rosbash, and Michael W. Young were awarded the Nobel Prize for Medicine and Physiology for their research on the biological clock. They discovered the molecular mechanisms controlling biological rhythms. A new 'research_tv' report describes how scientists at Bielefeld are also advancing research on the biological clock. The biochemist Professor Dr. Dorothee Staiger from Bielefeld University explains what the three Nobel Prize winners have achieved and reports on the discoveries her research team has made together with collaborators.
[Weiterlesen]
Posted by JHeeren
in General
Published on 28. November 2017
Bielefeld University and the University of Münster cooperate in Transregio consortium
3
' will link the sub-disciplines of behavioural biology, ecology, and evolutionary biology. Its goal is to elucidate how animals succeed by individually adapting to their environment and thereby finding and exploiting their individualised ecological niche. The German Research Foundation (DFG) has now approved funding for CRC/TRR 212. Starting in January 2018, it will be supporting this new direction in research with a total of roughly 8.5 million Euros. The behavioural ecologist Professor Dr. Oliver Krüger from Bielefeld University is the speaker; the evolutionary biologist Professor Dr. Joachim Kurtz from the University of Münster, assumes the role of vice-speaker.
[Weiterlesen]
Posted by JBömer
in General
Published on 20. November 2017
Study published by physicists from Bielefeld University
Electronic devices such as computers generate heat that mostly goes to waste. Physicists at Bielefeld University have found a way to use this energy: They apply the heat to generate magnetic signals known as 'spin currents'. In future, these signals could replace some of the electrical current in electronic components. In a new study, the physicists tested which materials can generate this spin current most effectively from heat. The research was carried out in cooperation with colleagues from the University of Greifswald, Gießen University, and the Leibniz Institute for Solid State and Materials Research in Dresden. Their findings are being published today (20.11.2017) in the research journal 'Nature Communications'.
[Weiterlesen]
Posted by NLangohr
in General