Deutsch
uni.news
uni.news
Published 9. August 2017
New funding for project run by Bielefeld University and the University of Tennessee at Chattanooga
[Weiterlesen]
Gesendet von JBömer
in General
Published 7. August 2017
Chemists at Bielefeld University working on new production methods
[Weiterlesen]
Gesendet von JBömer
in General
Published 4. August 2017
Outstanding academic achievements and social commitment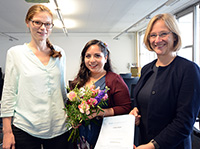 The presenter Dr. Annett Jorschick, the award winner Fiorella Abad Bruzzo, and Vice-Rector Prof. Dr. Angelika Epple (from left) at the DAAD award ceremony. Photo: Bielefeld University
Bielefeld University has given Kiara Fiorella Abad Bruzzo the German Academic Exchange Service (DAAD) award. Professor Dr. Angelika Epple, Bielefeld University's Vice-Rector for International Affairs and Diversity, presented the award. Worth 1,000 Euro, it is funded by the German Federal Foreign Office. It honours international students who stand out through their exceptional academic achievements and their remarkable social, cultural, or political commitment.
[Weiterlesen]
Gesendet von NLangohr
in General
Published 31. Juli 2017
Biologists at Bielefeld University reveal effects of using chemicals
The number of insects in Germany is declining rapidly – in the state of North Rhine-Westphalia alone, it has dropped by three-quarters within only 25 years. In a new study, biologists at Bielefeld University show the effects of pesticides and how even slight traces lead to long-term damage to beetles. One finding is that leaf beetles lay roughly 35 per cent fewer eggs after coming into contact with traces of a frequently used pesticide – a pyrethroid. The researchers also showed that female offspring develop malformations through the poison. The biologists have published their study in the journal 'Environmental Pollution'.
[Weiterlesen]
Gesendet von JBömer
in General
Published 26. Juli 2017
Team at Cluster of Excellence CITEC present progress made on EU project


Researchers at Bielefeld University's Cluster of Excellence Cognitive Interaction Technology (CITEC) are investigating what a robot needs to be able to do to teach a second language to preschool children. Since 2016, they have been researching whether and how social robots are suitable for teaching language. This research is part of the international project L2TOR, which is funded as part of the European Commission's Horizont 2020 research program. A preliminary finding, according to the researchers: robots can motivate children to learn, and help them retain more vocabulary. On 13 July 2017, the Bielefeld project team demonstrated how the robot supports preschool kids in their learning.
[Weiterlesen]
Gesendet von JHeeren
in General
Published 13. Juli 2017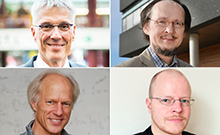 Chancellor Dr. Stephan Becker appointed to the board of the Digital University NRW
Professor Dr. Helge Ritter joins Senate of the German Research Foundation (DFG)
Professor Dr. Michael Röckner receives honorary doctorate
Interim Professor Dr. Fabian Wendt awarded Sanders Prize in Political Philosophy

[Weiterlesen]
Gesendet von LThomßen
in General
Published 12. Juli 2017
Vice-Rector Epple: "Building bridges for colleagues in need"
Bielefeld University takes in another two refugee academics from Turkey. Funding is secured via the Philipp Schwartz Initiative, which provides universities and research facilities in Germany with the means to host threatened researchers with a full scholarship for a period of 24 months. This brings the total number of fellows hosted at Bielefeld University to four. The first two fellowships were awarded back in December 2016.
[Weiterlesen]
Gesendet von NLangohr
in General
Published 6. Juli 2017
Bielefeld Graduate School in History and Sociology of Bielefeld University

Boundaries are created not only by walls and toll gates. Even in academic discourse, the nation state is still a major delimitation criterion and sometimes obscures the big picture. Young re-searchers at the Bielefeld Graduate School in History and Sociology (BGHS) are organising the 9th International Annual Seminar of the BGHS from 13 to 15 July to expose and break down the "boundaries in the heads" of sociologists and historians.
[Weiterlesen]
Gesendet von JBömer
in General
Published 30. Juni 2017
Building up research cooperation; planning joint study courses


Yesterday (29.06.2017), Professor Dr. Miguel Ángel Navarro Navarro, Vice-Rector of the University of Guadalajara, the second-oldest university in Mexico, headed a delegation to Bielefeld University. The reason for the visit is the joint development of a German–Latin American research centre in the social sciences and humanities: the Center for Advanced Latin American Studies (CALAS). In addition, the two universities are planning to cooperate even more strongly in research and teaching.
[Weiterlesen]
Gesendet von JBömer
in General
Published 29. Juni 2017
Researchers at Cluster of Excellence CITEC launch collaborative research project


A new device is meant to help people with severe brain damage to communicate with others. The NeuroCommTrainer is supposed to understand brain signals, and enable the patient to respond with a "yes" or a "no" using electroencephalogram (EEG) measurements. Best of all, the system helps train patients to control their brain activity in a targeted way. The NeuroCommTrainer project begins this month and is funded with 1.87 million Euro. Neuropsychologist Professor Dr. Johanna Kissler, of Bielefeld University's Cluster of Excellence Cognitive Interaction Technology (CITEC), is leading the new research. Three universities, two companies, and the v. Bodelschwingh Foundation Bethel are working together on this project.
[Weiterlesen]
Gesendet von JHeeren
in General