uni.news
Published on 11. Oktober 2019
Japanese researcher on campus for 2019 CITEC Conference at Bielefeld University
The science fiction drama "Sayōnara" is considered to be the first film with an android as an actor. "Geminoid F" portrays a faithful robot who stays at the side of young, sick woman after a nuclear contamination. The Geminoid F robot was developed by Japanese robotics researcher Professor Dr. Hiroshi Ishiguro, who became known worldwide after having constructed a robot doppelgänger of himself. "Science Cinema Special" will screen "Sayōnara" on Wednesday, 23 October, which will then be accompanied by a discussion with Dr. Hiroshi Ishiguro. The film will be shown at 7pm the Kamera Filmkunsttheater in Bielefeld as part of the pre-program of the CITEC Conference 2019.
[Weiterlesen]
Posted by JHeeren
in General
Published on 20. September 2019
University researchers improve super-resolution microscopy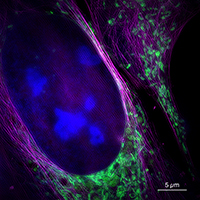 They can make tiny cell structures visible: cutting-edge light microscopes offer resolutions of a few tenths of a nanometre—in other words, a millionth of a millimetre. Until now, super-resolution microscopes were much slower than conventional methods, because more or finer image data had to be recorded. Together with partners from Jena, researchers from Bielefeld University have now developed the super-resolution SR-SIM process further. The academics show that SR-SIM is also possible in real time and at a very high imaging rate—and thus suitable for observing movements of very small cell particles, for example. Their findings have been published today (20 September) in the journal "Nature Communications".
[Weiterlesen]
Posted by HMetzen
in General
Published on 16. September 2019
Rector Gerhard Sagerer thanks everybody 'who has contributed to this splendid outcome'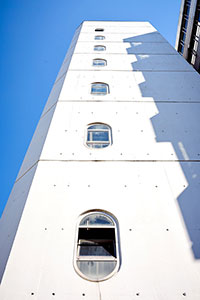 Bielefeld University has made a great leap forward in the new Times Higher Education (THE) Ranking that was published yesterday (11.09.2019): from Rank 250 to Rank 166. The British academic journal THE compares 1,400 universities across 92 countries in the world.
[Weiterlesen]
Posted by HMetzen
in General
Published on 11. September 2019
ZiF conference on late socialist societies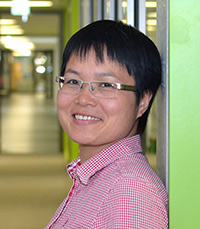 In recent decades, the centrally planned socialist economy in countries such as Laos, China, and Vietnam has been replaced by a market economy that remains under the political rule of the Communist party. The resulting changes to society have had profound implications on the idea of the good life—from deliberations on housing to those around religion. This is the topic of the conference entitled 'The Good Life in Late Socialist Asia: Aspirations, Politics, and Possibilities' to be held from 16 to 18 September at Bielefeld University's Center for Interdisciplinary Research (ZiF). The conference also marks the launch of the 'WelfareStruggles' project for which the social anthropologist Professor Dr Minh Nguyen is receiving an ERC Starting Grant from the European Research Council—one of the most important EU research grants.
[Weiterlesen]
Posted by HMetzen
in General
Published on 3. September 2019
ERC Starting Grant for highly promising young scientists goes to Dawid Kielak
[Weiterlesen]
Posted by JBömer
in General
Published on 5. August 2019
Bielefeld University and the University of Applied Sciences Bielefeld working on "Avikom" project with eight regional partners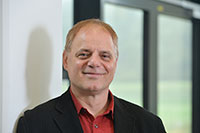 The new "Avikom" research project is innovating an intelligent, assistive audiovisual system for workers in the fields of manufacturing and logistics. The system is designed to provide assistance via a visual display with spoken instructions, which could also be useful for providing on-the-job training. The smart glasses, with a specialized headset, provide information precisely at the time it is needed. Bielefeld University and the University of Applied Sciences Bielefeld are working on the project with four regional companies: the v. Bodelschwinghsch Bethel Foundation, the Handelskammer Ostwestfalen zu Bielefeld (Chamber of Industry and Commerce Bielefeld, Ostwestfalen) and two trade associations. The Bundesministerium für Bildung und Forschung (Federal Ministry for Education and Research, BMBF) and the European Social Fund (ESF) are funding the new research with a total of 2.4 million Euro through April 2022.
[Weiterlesen]
Posted by MBerthold
in General
Published on 30. Juli 2019
Research project at Bielefeld University being funded by Volkswagen Stiftung
Social Bots are believed to have influenced public opinion in the 2016 U.S. presidential election. And before the European Parliamentary election, an EU Commissioner warned of disinformation campaigns being waged with Social Bots. Social Bots are specialized computer programs made specifically to communicate over social media. What impact are Social Bots having on societal discourse? And how might technical systems be used to combat these Bots? Researchers from Bielefeld University, the University of Applied Sciences Bielefeld, and the Australian National University are working on these questions as part of a research project that is being funded by the Volkswagen Stiftung (Volkswagen Foundation).
[Weiterlesen]
Posted by MBerthold
in General
Published on 29. Juli 2019
Institute for Bioinformatics Infrastructure founded by Faculty of Technology
Prof. Dr. Jens Stoye, who specializes in genome informatics, serves as acting director of the new Bielefeld Institute for Bioinformatics Infrastructure (BIBI). Photo: Bielefeld University
"The quantities of data that we in the life sciences work with are constantly growing. This has made analyzing and storing data a big challenge," says Professor Dr. Jens Stoye, member of the Genominformatik ("Genome Informatics") research group in Bielefeld University's Faculty of Technology. Dr. Stoye is the acting director of the new institute.
[Weiterlesen]
Posted by MBerthold
in General
Published on 24. Juli 2019
University researchers publish study on new telescope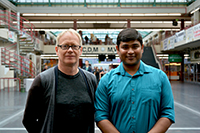 The Square Kilometre Array (SKA) is set to become the largest radio telescope on Earth. Bielefeld University researchers together with the Max Planck Institute for Radio Astronomy (MPIfR) and international partners have now examined the SKA-MPG telescope—a prototype for the part of the SKA that receives signals in the mid-frequency range. The study, published today (24 July) in the journal 'Monthly Notices of the Royal Astronomical Society', shows that the telescope is not only a prototype to test the SKA design, but can also be used on its own to provide insights into the origin of the Universe. The German Federal Ministry of Education and Research (BMBF) is funding the work on the SKA-MPG through a joint research project coordinated by Bielefeld University.
[Weiterlesen]
Posted by HMetzen
in General
Published on 11. Juli 2019
Bielefeld University participates in Helmholtz Association project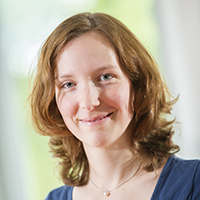 How will the climate change, how certain is our energy supply, and what are the potentials of molecular medicine? Through statistical analyses, large amounts of data on the greatest variety of issues can be processed in ways that permit new knowledge and predictions. Nonetheless, predictions are always accompanied by uncertainty. The new project 'Uncertainty Quantification' is applying methods from probability theory to integrate uncertainty into analyses appropriately in order to calculate the reliability of predictions. The project is headed by Professor Dr Christiane Fuchs from Bielefeld University and Professor Dr Martin Frank from the Karlsruhe Institute of Technology. A total of four million euros is being invested in this research, and it is receiving funding from the Helmholtz Association of German Research Centers.
[Weiterlesen]
Posted by JHeeren
in General