uni.news
Published on 16. Mai 2018
Bielefeld chemists publish research article in the journal "Nature Communications"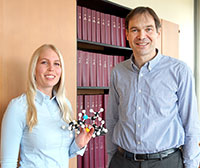 Penicillin-based antibiotics contain a five-membered hydrocarbon cycle, additionally incorporating a sulfur and a nitrogen atom. Nadine Zumbrägel, doctoral student at the Chair of Organic Chemistry I at Bielefeld University, has succeeded in selectively synthesizing this important substructure with different residues on this cycle using a biotechnological method. The targeted design of such structures now enables the preparation of substance libraries of such so-called heterocycles, which can in future be used by the pharmaceutical industry to find new active substances. Besides the Bielefeld chemists, two scientists from the Ruhr-University Bochum were also involved in the studies. The researchers present their findings today (16 May 2018) in the renowned journal "Nature Communications" with Zumbrägel as first author and Professor Dr. Harald Gröger, head of the Chair of Organic Chemistry I, as corresponding author.
[Weiterlesen]
Posted by MMüller
in General
Published on 25. April 2018
First Scientific Collaboration coming in autumn
The intended partnership between higher education institutions in the regions Ostwestfalen-Lippe (OWL) and Alberta (Canada) has become more concrete: An agreement for cooperation has been signed in Edmonton, Canada. An upcoming meeting taking place in autumn in Edmonton will help shed light on how this German-Canadian cooperation could take shape in the future.
[Weiterlesen]
Posted by JBömer
in General
Published on 25. April 2018
Research results published in the journal "Nature Communications"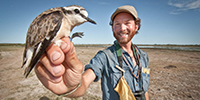 Behavioural scientist Luke Eberhart-Phillips. Photo: Bielefeld University/ L. Eberhart-Phillips
The ratio of adult males and females is an important demographic trait in wild populations. In plovers, closely related populations express strikingly different adult sex ratios. This variation is mainly driven by sex differences in the survival of juveniles. Families in populations with biased adult sex ratios were predominantly tended by a single parent – typically the father – whereas in balanced populations, generally both parents take care of the young, suggesting that parental cooperation breaks down under an unbalanced sex ratio. That was found out by a research group around Dr. Luke Eberhart-Phillips. The behavioural scientist did his research about the sex ratio of plovers supervised by Professor Dr. Joseph Hoffman and Professor Dr. Oliver Krüger at Bielefeld University and he's now Postdoc at Max Planck Institute for Ornithology Seewiesen. The research team, in which also the University of Bath and the Max Planck Institute for Ornithology Seewiesen are involved, presents its results today (25.04.2018) in the journal "Nature Communications".
[Weiterlesen]
Posted by MMüller
in General
Published on 18. April 2018
Accompanying programme: Lectures, guided tours and photographic interventions
[Weiterlesen]
Posted by JBömer
in General
Published on 17. April 2018
Bielefeld University to exhibit at 2018 Hannover Trade Fair
[Weiterlesen]
Posted by JBömer
in General
Published on 12. April 2018
New "EcoGest" project at Bielefeld University and Paderborn University

What role does gesturing play as children learn to speak? What gestures do they use to complement their verbal statements? Can computer-assisted models of language acquisition help explain the different types of gestures? In the new project "EcoGest," researchers are investigating how children's use of gestures is connected to communication. Researchers from the Cluster of Excellence Cognitive Interaction Technology (CITEC), from linguistics at Bielefeld University, and from psycholinguistics at Paderborn University are working together on the project.
[Weiterlesen]
Posted by NLangohr
in General
Published on 26. Februar 2018
International research project on the border between physics and chemistry
[Weiterlesen]
Posted by JBömer
in General
Published on 22. Februar 2018
Bielefeld University organizing international conference on optical nanoscopy (ICON)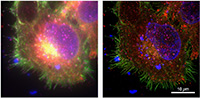 The US-American Nobel Prize winner Professor William E. Moerner together with more than 150 researchers and companies from all over the world will be attending the International Conference on Nanoscopy (ICON 2018) in Bielefeld from the 27th of February till the 2nd of March. The latest developments in the field of optical nanoscopy and their application in biology and biomedicine will be discussed at the meeting. Bielefeld University's Faculty of Physics is organizing the conference together with the Gesellschaft zur Förderung des Forschungs- und Technologietransfers (GFT e.V.) and the company Bionano-Solutions. It will be held in the conference rooms of the Bielefeld University of Applied Sciences.
[Weiterlesen]
Posted by NLangohr
in General
Published on 19. Februar 2018
Federal Health Minister Gröhe: "With this roadmap, we can achieve a great deal."

Every second person in Germany has only limited health literacy. It is hard for them to understand and evaluate health-related information. A team of experts from academia and the healthcare field, led by Doris Schaeffer and Ullrich Bauer from the University of Bielefeld, Klaus Hurrelmann from the Hertie School of Governance and Kai Kolpatzik from the AOK national association (AOK-Bundesverband), want to combat this deficit with a "National Action Plan for Health Literacy". The plan offers 15 concrete recommendations involving all the relevant actors, and aims to make the healthcare system more user-friendly and promote citizens' health literacy. The "National Action Plan for Health Literacy" is an initiative of the academics and is sponsored by the Federal Minister of Health. The Robert Bosch Foundation and the AOK-Bundesverband funded the work.
[Weiterlesen]
Posted by JBömer
in General
Published on 26. Januar 2018
University Society awards Dissertation Prizes
On the 23rd of January, the Bielefeld University Society (UGBi) awarded Dissertation Prizes to young academics at Bielefeld University: the award goes to the best doctoral thesis of 2017 in each faculty. All 17 theses proposed by the faculties had received the highest classification of 'summa cum laude'. This is the first time so many prizes have been awarded, and also the first time a prize winner has come from the Bielefeld School of Education (BiSED).
[Weiterlesen]
Posted by NLangohr
in General