uni.news
Published on 3. Februar 2021
Bielefeld researchers provide 3D images of coronaviruses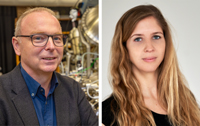 Scientists at Bielefeld University's Faculty of Physics have succeeded for the first time in imaging the SARS-CoV-2 coronavirus with a helium ion microscope. In contrast to the more conventional electron microscopy, the samples do not need a thin metal coating in helium ion microscopy. This allows interactions between the coronaviruses and their host cell to be observed particularly clearly. The scientists have published their findings, obtained in collaboration with researchers from Bielefeld University's Medical School OWL and Justus Liebig University Giessen, in the Beilstein Journal of Nanotechnology.
[Weiterlesen]
Posted by JHeeren
in General
Published on 27. Januar 2021
Bielefeld researchers publish study in Nature Communications
In order to produce tiny electronic memories or sensors in future, it is essential to be able to arrange individual metal atoms on an insulating layer. Scientists at Bielefeld University's Faculty of Chemistry have now demonstrated that this is possible at room temperature: molecules of the metal-containing compound molybdenum acetate form an ordered structure on the insulator calcite without jumping to other positions or rotating. Their findings have been presented in the Nature Communications journal. The work was done in cooperation with researchers from the universities of Kaiserslautern, Lincoln (UK) and Mainz.
[Weiterlesen]
Posted by JHeeren
in General
Published on 18. Dezember 2020
German Research Foundation (DFG) supports network with 11.9 million euros in funding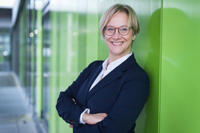 The German Research Foundation (DFG) is funding Bielefeld University's Collaborative Research Centre 'Practices of comparing: ordering and changing the world' (SFB 1288) for another four years as of January 2021. Today (27/11/2020), the DFG announced that it will be extending the interdisciplinary research network for an additional period. 11.9 million euros have been approved for the second funding period. This is a great success which acknowledges the work of the SFB members over the past four years,' says Professor Dr.-Ing. Gerhard Sagerer, Rector of Bielefeld University.
[Weiterlesen]
Posted by JHeeren
in General
Published on 12. November 2020
Bielefeld University coordinates new EU-project VEDLIoT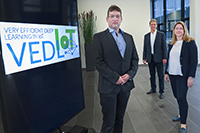 Autonomous vehicles and devices for intelligent homes are becoming increasingly complex. A new system based on machine learning is being designed to make the soft- and hardware used for these applications more robust, powerful, and energy-efficient. The new project VEDLIoT is being funded by the European Commission, with approximately eight million Euro over the course of three years. The project is coordinated by Bielefeld University's CoR-Lab.
[Weiterlesen]
Posted by JHeeren
in General
Published on 5. November 2020
Professor Barbara Hammer and three European colleagues receive ERC Synergy Grant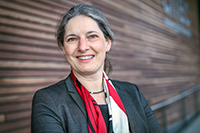 Secure the supply of drinking water in the face of urban growth: Dr Barbara Hammer, professor of computer science from Bielefeld University, and three other European scientists will be exploring new technologies for this purpose. The European Research Council (ERC) is supporting the four scientists in their project Water-Futures with its Synergy Grant—one of the European Union's most prestigious research grants. For the next six years, the four researchers will receive a total of 10 million euros, 2.4 million euros of which will go to Bielefeld University.
[Weiterlesen]
Posted by JHeeren
in General
Published on 2. Oktober 2020
Inaugural conference for research group at Center for Interdisciplinary Research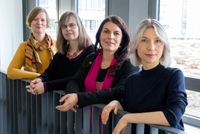 Equal rights for people of all genders: this was, for a long time, considered an unrealized but undisputed goal. This understanding, however, has recently begun to show cracks, with a commitment to equality being maligned as "gender ideology". How did it come to pass that women's and gender rights have become controversial topics in different countries around the world? Starting in October, the new research group "Global Contestations of Women's and Gender Rights" at Bielefeld University's Center for Interdisciplinary Research (Zentrum für interdisziplinäre Forschung, Zif) will be exploring these questions. The research group will launch its work with an international kick-off conference held at the ZiF – both on campus and online – from October 7th-9th, 2020.
[Weiterlesen]
Posted by FFollmer
in General
Published on 15. September 2020
Next step in the strategic partnership with Canada
Due to the pandemic, digital teaching at German universities has developed rapidly in recent months. Bielefeld University can now make particular use of this upswing for its partnership with higher education institutions in the Canadian region of Alberta, thereby pushing ahead withinternational virtual academic cooperation. The 'We CAN Virtu-OWL' project between Eastern Westphalian universities and partner universities in the Alberta region (Canada), which has been approved by the German Academic Exchange Service (DAAD) and is led by Bielefeld University, is being funded by the Federal Ministry of Education and Research (BMBF) with 210,000 euros.
[Weiterlesen]
Posted by JBömer
in General
Published on 3. September 2020
ERC Starting Grants for Professor Dr Martina Hofmanová and Dr Toni Goßmann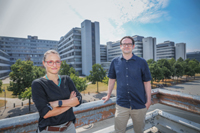 The European Research Council (ERC) has awarded ERC Starting Grants to two researchers from Bielefeld University. They will each receive 1.5 million euros for top-level research in their disciplines. In her project, Professor Dr Martina Hofmanová from the Faculty of Mathematics is investigating fluid flows and studying how they are influenced by randomness. Dr Toni Goßmann from the Faculty of Biology is working on epigenetic programming—that is, he is investigating flexible changes in the genomes that control, for example, which genes are activated in body cells. As recipients of this research funding, Hofmanová and Goßmann now belong to Europe's best young scientists.
[Weiterlesen]
Posted by JHeeren
in General
Published on 25. August 2020
International research team logs emission of terahertz radiation
An international team of physicists from Bielefeld University, Uppsala University, the University of Strasbourg, University of Shanghai for Science and Technology, Max Planck Institute for Polymer Research, ETH Zurich, and the Free University Berlin have developed a precise method to measure the ultrafast change of a magnetic state in materials. They do this by observing the emission of terahertz radiation that necessarily accompanies such a magnetization change. Their study, titled 'Ultrafast terahertz magnetometry', is being published today (25.08.2020) in Nature Communications.
[Weiterlesen]
Posted by JHeeren
in General
Published on 28. Juli 2020
Bielefeld economists develop computer model for coronavirus measures
How do the restrictions imposed by the coronavirus crisis impact the economy? What measures are suitable to minimise the number of people infected and killed by SARS-CoV-2? And how are these two dynamics related? Academics at Bielefeld University have investigated this and now published their findings in a study. Using a computer model with high predictive power, they simulated how the virus spreads and the effects of different containment measures—both on gross domestic product and unemployment figures as well as on the number of people infected and those who die of Covid-19.
[Weiterlesen]
Posted by FFollmer
in General