uni.news
Published on 28. November 2017
Bielefeld University and the University of Münster cooperate in Transregio consortium
3
' will link the sub-disciplines of behavioural biology, ecology, and evolutionary biology. Its goal is to elucidate how animals succeed by individually adapting to their environment and thereby finding and exploiting their individualised ecological niche. The German Research Foundation (DFG) has now approved funding for CRC/TRR 212. Starting in January 2018, it will be supporting this new direction in research with a total of roughly 8.5 million Euros. The behavioural ecologist Professor Dr. Oliver Krüger from Bielefeld University is the speaker; the evolutionary biologist Professor Dr. Joachim Kurtz from the University of Münster, assumes the role of vice-speaker.
[Weiterlesen]
Posted by JBömer
in General
Published on 20. November 2017
Study published by physicists from Bielefeld University
Electronic devices such as computers generate heat that mostly goes to waste. Physicists at Bielefeld University have found a way to use this energy: They apply the heat to generate magnetic signals known as 'spin currents'. In future, these signals could replace some of the electrical current in electronic components. In a new study, the physicists tested which materials can generate this spin current most effectively from heat. The research was carried out in cooperation with colleagues from the University of Greifswald, Gießen University, and the Leibniz Institute for Solid State and Materials Research in Dresden. Their findings are being published today (20.11.2017) in the research journal 'Nature Communications'.
[Weiterlesen]
Posted by NLangohr
in General
Published on 17. November 2017
Researchers use new systems biology methods on plants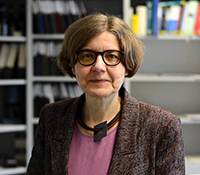 In December, the Nobel Prize for Medicine and Physiology will be awarded for the identification of genes that control the biological clock. The honoured academics examined fruit flies to investigate the molecular basis of biological rhythms. Biochemist Professor Dr. Dorothee Staiger (Photo) of Bielefeld University has been investigating the biological clock of plants for twenty years. Her team has now published a new study in the research journal "Genome Biology". One finding: not only the biological clock, but also a protein acting as an "auxiliary clock" ensures that recurring routines take place in the cells.
[Weiterlesen]
Posted by JHeeren
in General
Published on 6. November 2017
Center for Biotechnology raises funding for international cooperative research projects
[Weiterlesen]
Posted by JBömer
in General
Published on 2. November 2017
Dr. Christoph Kayser accepts professorship at Bielefeld University / 2 Million Euro Funding from European Research Council

Whether it is the lively activity of a festival, the vibe at the beach, or the chaos at the scene of an accident, the brain classifies these situations at lightning speed. To do this, the brain continuously sorts and combines the information it receives through the eyes, ears, and other sensory organs. Professor Dr. Christoph Kayser, a biologist and mathematician, researches how, and where in the brain, sensory information is integrated. Prof. Dr. Kayser previously headed a research group at the University of Glasgow (Great Britain), and has now accepted a professorship in Cognitive Neuroscience at Bielefeld University. His research is well known internationally: the European Research Council (ERC) provides 2 million Euros to fund his work through 2020.
[Weiterlesen]
Posted by JHeeren
in General