uni.news
Published on 20. Juni 2018
Project on the central university hall launched
How do students and staff use the central university hall in the main university building? How do they rate the services on offer? With a short survey, the University wishes to find answers to these questions. All students and staff members are invited to take part. The online survey takes about five minutes. Participation is possible until 8 July.
[Weiterlesen]
Posted by JBömer
in General
Published on 12. Juni 2018
Cluster of Excellence CITEC to present intelligent technical systems at industry trade fair for automation in Munich
Mechanical hands that feel like human hands. A robot head that attentively monitors its surroundings. And agile mini robots that maneuver around obstacles. The Cluster of Excellence Cognitive Interaction Technology (CITEC) at Bielefeld University shows how flexibily technical systems can adapt to human living environments in order to provide assistance in both daily life and in the workplace. Research prototypes will be on display from 19–22 June in Munich at Automatica, the largest international industry trade fair for automation (Hall B4, Booth 313).
[Weiterlesen]
Posted by JBömer
in General
Published on 7. Juni 2018
29th place worldwide in the "Times Higher Education" ranking
For the seventh time in a row, Bielefeld University has been named one of the world's best young universities by the British academic magazine Times Higher Education (THE). In the "Young University Rankings 2018" Bielefeld University ranks 29th worldwide. Among the German universities evaluated, it ranks fourth, and second in North Rhine-Westphalia. The ranking compares universities worldwide that are not older than 50 years.
[Weiterlesen]
Posted by JBömer
in General
Published on 7. Juni 2018
Bielefeld University's international range of study courses extended
[Weiterlesen]
Posted by JBömer
in General
Published on 4. Juni 2018
Project from CITEC researchers wins prize in "Landmarks in the Land of Ideas" competition
[Weiterlesen]
Posted by JBömer
in General
Published on 1. Juni 2018
Posted by JBömer
in General
Published on 1. Juni 2018
Bielefeld physics successfully concludes DFG priority programme


The national priority programme 'Spin Caloric Transport' (SpinCaT) funded by the German Research Foundation (DFG) was set up to examine how magnetic currents can be generated through differences in temperature and explore their potential future use to save energy in nanoelectronics. Bielefeld University's Faculty of Physics worked on seven projects in the now successfully completed programme that was launched in 2011. Dr Timo Kuschel and Professor Dr Günter Reiss and their research team achieved further breakthroughs in three projects.
[Weiterlesen]
Posted by MBerthold
in General
Published on 21. Mai 2018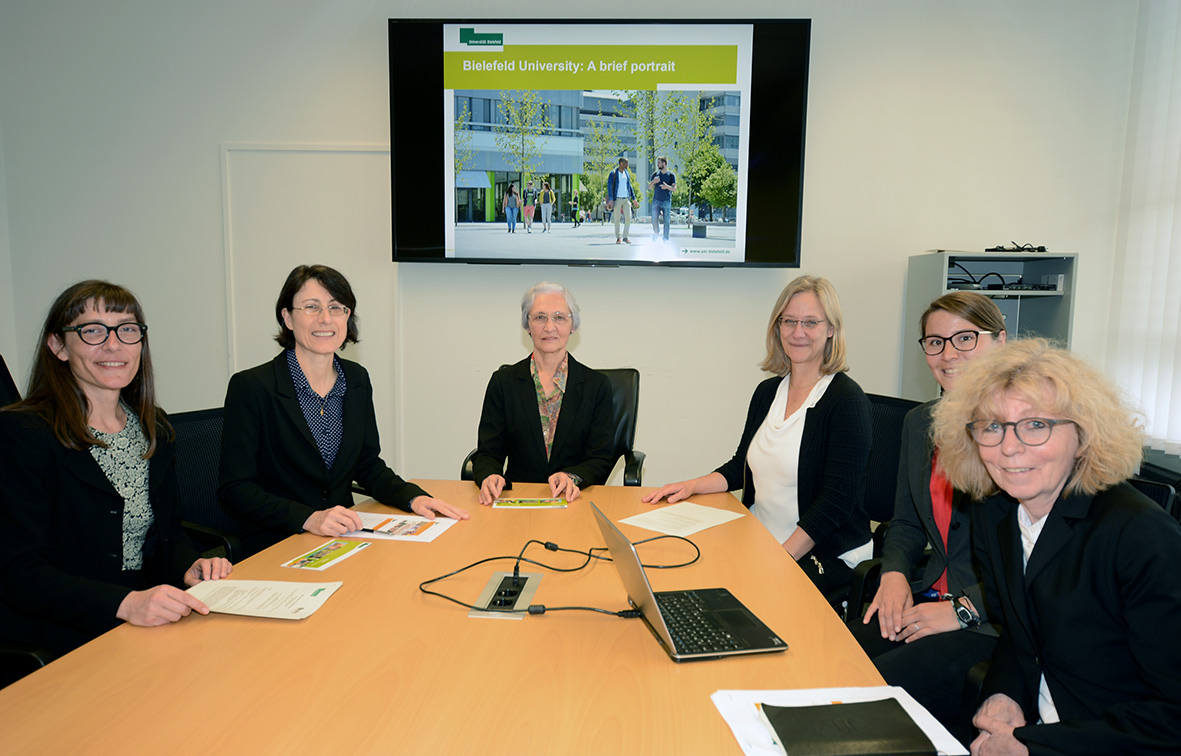 Pflegekräfte übernehmen in Brasilien eine ganz andere Rolle als in Deutschland: Sie sind akademisch ausgebildet und stellen medizinische Grundversorgung und Gesundheitsberatung sicher. Kerstin Hämel und Doris Schaeffer, Professorinnen für Gesundheitswissenschaften, arbeiten bereits seit einigen Jahren mit der Universidade Franciscana, einer Universität im Süden Brasiliens, zusammen. Jetzt haben sie die Präsidentin und die Professorin für Pflegewissenschaft aus Santa Maria nach Bielefeld eingeladen, um in einem Memorandum of Understanding für die kommenden drei Jahre gemeinsame Forschungsperspektiven festzuklopfen.
[Weiterlesen]
Posted by NLangohr
in General
Published on 16. Mai 2018
Bielefeld chemists publish research article in the journal "Nature Communications"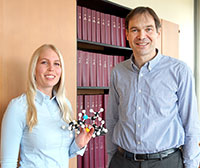 Penicillin-based antibiotics contain a five-membered hydrocarbon cycle, additionally incorporating a sulfur and a nitrogen atom. Nadine Zumbrägel, doctoral student at the Chair of Organic Chemistry I at Bielefeld University, has succeeded in selectively synthesizing this important substructure with different residues on this cycle using a biotechnological method. The targeted design of such structures now enables the preparation of substance libraries of such so-called heterocycles, which can in future be used by the pharmaceutical industry to find new active substances. Besides the Bielefeld chemists, two scientists from the Ruhr-University Bochum were also involved in the studies. The researchers present their findings today (16 May 2018) in the renowned journal "Nature Communications" with Zumbrägel as first author and Professor Dr. Harald Gröger, head of the Chair of Organic Chemistry I, as corresponding author.
[Weiterlesen]
Posted by MMüller
in General
Published on 25. April 2018
First Scientific Collaboration coming in autumn
The intended partnership between higher education institutions in the regions Ostwestfalen-Lippe (OWL) and Alberta (Canada) has become more concrete: An agreement for cooperation has been signed in Edmonton, Canada. An upcoming meeting taking place in autumn in Edmonton will help shed light on how this German-Canadian cooperation could take shape in the future.
[Weiterlesen]
Posted by JBömer
in General