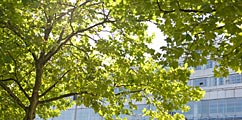 Frau Dr. Margit Fauser: Kontakt
Curriculum Vitae
since 05/2015 Senior Lecturer (Akademische Oberrätin auf Zeit), Bielefeld University, Faculty of Sociology (on leave 04/2016-09/2017)
04/2016 -09/2017 Visiting professor and chair (Lehrstuhlvertretung W3) in Sociology /Organisation, Migration, Participation, Faculty for Social Science, Ruhr University Bochum
2016 Bielefeld Certificate for Teaching in Higher Education
07/2011-06/2015 Researcher and project coordinator, Collaborative Research Centre 882 "From Heterogeneities to Inequalities", C1 Project "Transnationality and Inequality: Pilot Project Panel Study", Bielefeld University
10/2009-06/2011 Academic collaborator in the Internationalization of Study &Teaching, Bielefeld University, Faculty of Sociology, development of an international track of the MA Sociology, university pilot project
2009 Dr. phil., summa cum laude, Bielefeld University, Thesis "Migrants and Cities: migrant organisations in new immigration cities" (Supervisors: Prof. Thomas Faist, PhD, Bielefeld University and Prof. Dr Joaquín Arango, Universidad Complutense de Madrid)
04/2005-07/2009 International Graduate School in Sociology (IGSS), Department of Sociology, Bielefeld University
2006 Visiting scholar at the Instituto Universitario Ortega y Gasset (IUOG), Madrid, and Centro de Investigación de Relaciones Internacionales y Desarrollo (CIDOB), Barcelona, scholarship from the German Academic Exchange Service (DAAD) (Feb-March, Sept-Oct, 2006)
04/2005-04/2015 Lecturer and researcher, Bielefeld University, Department of Sociology, Research Group Transnationalization, Development and Migration, Prof. Thomas Faist, PhD
05/2003-03/2005 Researcher, Collaborative Research Centre 597 "Transformations of the State", B2 Project "Democratic Legitimation of Migration Control", University of Applied Sciences Bremen
08/2000-04/2003 Project manager and researcher, Secretary for Future Studies (SFZ) Research & Consultancy Institute gGmbH
Aktuelle Forschungsthemen
My research concerns transnational mobilities and in- and exclusions. I currently follow these interests along the following lines:
Migration, citizenship and borders
Transnational connections: development, social change and the reproduction of inequalities
Mobility and work in the global world
The first line of research emerges from my investigation of migrant organisations' accommodation in cities across Europe and the role of multiple governance arrangements on various scales plays for them. This research has been published as a monograph entitled Migrants and Cities (Routledge 2012). In the last years, I have further developed this perspective, especially along the concepts of urban and transnational citizenship and their interlinkages. In this line, my current research investigates the lifestyle mobilities of privileged emigrants in order to help understand the role of citizenship in the context of uneven geographies. In addition, more recently this interest in citizenship and inclusion has led me to more closely engage with the often neglected perspective on (urban) exclusion and the emergent role of the city in border control.
My second line of research investigates the interconnections between migration and transnational practices and the implications these have for people and places of immigration, emigration and in-between. Part of this interest comes out of my involvement with the "Transnationalization and Inequalities" project within the Collaborative Research Centre 882. I am also an associated member of the research team in the project Recasting Migrants' Voices based at Babes-Bolyai University in Cluj. In addition, I am member of a network on transnational mobilities and development through which I follow my interest in the emergence of new trans-urban connectivities, a theme developed in the Special Issue of Population, Space and Place (22, 2016) Migrants' transnationality, societal transformations and locality that I co-edited together with Dr Gery Nijenhuis (IDS, Utrecht University).
The third line of my research deals with mobility and work and in particular labour rights activism by trade unions, social movements, migrant organizations and mobilization, relating to my interest in citizenship and participation as well as in space, flows and place. Here I am specifically interested in the challenges that come out of cross-border mobility of workers that often constitute specifically vulnerable groups at the intersection of origin, legal status, qualification, ethnicity and gender. In this field I am now starting a new student research project on "Transnational labour mobility and labour rights in Europe" as a first step for new research in this area.