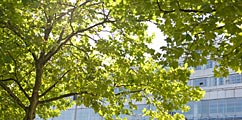 Frau Dr. Stefanie Boltersdorf: Kontakt
Modulverantwortliche für
Curriculum Vitae
since 10/14 Teaching staff for special requirements, University Bielefeld, Faculty of Biology
Before...
07/08 – 03/14 Doctoral Studies. University of Trier, Department Geobotany. Doctoral thesis: 'A critical appraisal of accumulative biomonitors to assess and to map sources and rates of atmospheric nitrogen deposition on different regional scales in Germany'
04/09 – 02/13 Assistant lecturer, University of Trier, Department Geobotany
07/08 – 06/11 'Doctoral Scholarship' of the German Environmental Foundation (DBU), Osnabrueck
01/08 – 02/13 Research assistant / tutor, University of Trier, Department Geobotany
04/07 – 10/07 New Zealand, study trip
01/03 – 12/05 Student research assistant / tutor, University of Trier, Department Cartography
10/00 – 04/07 Applied Environmental Sciences, University of Trier; Focus: Structure and process analysis of the ecosystem and environmental analytics; Major subjects: Geobotany/Soil Science; Minor subjects: Cartography/Physical Geography /Regional Developing and Planning. Diploma thesis: 'Akkumulation luftgetragener Stoffe in Flechten.'
In between, also...
09/11 Freelancer, HYDROSOL-Hellebrand & Müller GbR, Trier: Phytosociologically consulting with field surveys
09/10 Freelancer, Office for conservation and work safety, Trier
03/08 – 06/08 Freelancer, University of Trier/State Agency for Environmental and Occupational Safety of the Saarland, Saarbrücken
10/07 Internship, City Park Services, Auckland (New Zealand)
05/05 – 07/05 Internship, Helmholtz Centre for Environmental Research (UFZ), Leipzig, Department Computational Landscape Ecology (CLE)
04/05 Internship, Landscape architecture office BGHplan, Trier
08/04 – 10/04 Internship, Swiss Federal Institute for Forest, Snow and Landscape Research (WSL), Birmensdorf (Switzerland), Department Forest Ecology
08/04 Canada, Manitoba – Excursion in the fields of Physical Geography and Soil Science, University of Trier/Natural Resources Institute, University of Manitoba (Canada),
Things that make me happy…
photography, hiking, running, gardening, travelling and talking with friends about everything and anything...