uni.news - Tag [homepage]
Published on 16. November 2018
Study at Bielefeld University published in 'Nature Communications'
Their fur was used as a raw material for coats; their fat was used for oil lamps and cosmetics: right up to the end of the nineteenth century, millions of seals were being hunted and killed every year worldwide. The consequences of this episode of commercial hunting for today's seal populations is the subject of a study published today (16.11.2018) in 'Nature Communications'. Population geneticists at Bielefeld University and the British Antarctic Survey have found that eleven seal species only narrowly escaped extinction. The scientists managed to include nearly all of the species alive today in their research. The study nevertheless reveals that most species survived the heyday of seal hunting in sufficient numbers to retain most of their genetic diversity.
[Weiterlesen]
Posted by JHeeren
in General
Published on 14. November 2018
The Cluster of Excellence CITEC and eight partners from four continents are working together as part of the international technology network "InterACT"


Bielefeld University and its Cluster of Excellence Cognitive Interaction Technology (CITEC) have joined the InterACT network. The partners in this network are dedicated to researching and developing technologies that will enhance global communication and cooperation. A total of nine universities and institutes from Asia, Australia, Europe, and North America belong to this network. In addition to Bielefeld University, new members of the network also include Stanford University (USA) and the Queensland University of Technology (Australia). The network is being coordinated by the Karlsruhe Institute of Technology (KIT).
[Weiterlesen]
Posted by MBerthold
in General
Published on 26. Oktober 2018
Joint development of information services planned for life sciences

For some time now ZB MED - Information Centre for Life Sciences and de.NBI - German Network for Bioinformatics Infrastructure have been planning a strategic and content-related cooperation in various areas of the life sciences. The office of the de.NBI network is located at the Center for Biotechnology at Bielefeld University. ZB MED and Bielefeld University have now signed a cooperation agreement cementing their future collaboration. The objective is to work together to provide complementary information services for the life sciences. To this end, the joint appointment of a W3 professorship is envisaged, among other things.
[Weiterlesen]
Posted by JBömer
in General
Published on 4. Oktober 2018
Conference of the Collaborative Research Centre (SFB) 1288 'Practices of Comparing'
When cultures meet, situations of contact are often overwhelming. How do people order the unknown cultural phenomena they encounter? Researchers at Bielefeld University assume that comparisons with the familiar play an important role in this process. They are verifying this assumption by looking at the history of European Expansion and colonization, and they will be discussing this question with international researchers at the conference 'Contact – Conquest – Colonization: Practices of Comparing between Europe, Africa, Asia, and the Americas, from Antiquity to the Present.' The conference will be held from the 11th to the 13th of October at Bielefeld University and is being organized by the Collaborative Research Centre (SFB) 1288 'Practices of Comparing'.
[Weiterlesen]
Posted by JBömer
in General
Published on 1. Oktober 2018
Vice-Rector Angelika Epple: "One of our most important international strategic partners"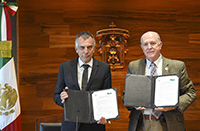 Bielefeld University has a new strategic partner in Mexico: the Universidad de Guadalajara. The partnership was sealed in Mexico at the beginning of September by Rektor Professor Dr.-Ing. Gerhard Sagerer and the Vice-Rector for International Affairs and Diversity, Professor Dr Angelika Epple, with the Rector General of the Universidad de Guadalajara, Dr Miguel Ángel Navarro Navarro, and the Rector of the CUCSH (University Centre of Social Sciences and Humanities), Dr Héctor Raúl Solís Gadea. "This institutionalises our cooperation beyond the long-standing contact of individual faculties. Guadalajara is one of our most important international strategic partners," says Angelika Epple.
[Weiterlesen]
Posted by MBerthold
in General
Published on 12. September 2018
Next step in the cooperation with the Canadian province of Alberta


Bielefeld University's Faculty of Educational Science and Faculty of Health Sciences are taking the lead: Their representatives are travelling to the province of Alberta from the 14th to the 19th of September for the first two binational workshops with Canadian partners. They will also be discussing future cooperation plans and the exchange of students and interns between educational institutions in both regions – and cooperation with further faculties and academic institutes.
[Weiterlesen]
Posted by MBerthold
in General
Published on 10. September 2018
Researchers publish findings on insect antenna flexibility and structure


For hundreds of millions of years, insects have used specialized antennae to explore their surroundings. For this tactile exploration, the antennae have to stiff enough to allow for active, controlled movement, while at the same time compliant enough to prevent damage when coming into contact with objects. How do insects solve this problem? And can the solution be used for biologically inspired robots? In an interdisciplinary project, researchers from Kiel University, Bielefeld University, and the Hochschule Bremen City University of Applied Sciences are working together to get to the bottom of this question.
[Weiterlesen]
Posted by MBerthold
in General
Published on 7. September 2018
47 certificates for successful candidates in the current year
Passing their DSH-Prüfung is a major milestone for refugees wishing to take up university studies. The 120th DSH certificate gained since the start of preparatory German language courses for refugees at Bielefeld University in 2016 will be awarded at a small ceremony today (07.09.). Eleven of this year's successful candidates intend to use their certificates to start studying at Bielefeld University or Bielefeld University of Applied Sciences.
[Weiterlesen]
Posted by JBömer
in General
Published on 3. September 2018
Exchange of email server
The email server of Bielefeld University will be exchanged from Friday September 7th noon until Monday morning September 10th.
[Weiterlesen]
Posted by JBömer
in General
Published on 29. August 2018
Design of the new lecture hall building unveiled
[Weiterlesen]
Posted by JBömer
in General