uni.news - Tag [homepage]
Published on 5. Januar 2018
Bielefeld biochemists confirm cause of initially unclear symptoms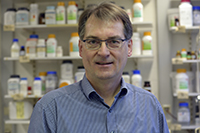 The sequencing of the human genome has made it possible: nowadays scientists can discover potential disorders for which there are no known patients. Such a disorder is 'MPS III-E', originally also called 'Dierks's disorder' after its discoverer. Doctors at the Hadassah-Hebrew University Medical Center in Jerusalem (Israel) found consistent symptoms of progressive blindness in three patient families that indicated the presence of a previously unknown genetic defect. Genome analyses at the University of Lausanne (Switzerland) delivered a candidate gene on which Professor Dr. Thomas Dierks from Bielefeld University had already published a research article in 2012. Studies by Dierks' research team now revealed that these patients indeed suffer from 'MPS III-E'. The researchers are now presenting their analysis in the journal 'Genetics in Medicine', published by the Nature Publishing Group.
[Weiterlesen]
Posted by JHeeren
in General
Published on 15. Dezember 2017
'research_tv' presents Bielefeld research on Nobel Prize topic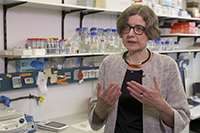 On Sunday (10.12.2017), the Americans Jeffrey C. Hall, Michael Rosbash, and Michael W. Young were awarded the Nobel Prize for Medicine and Physiology for their research on the biological clock. They discovered the molecular mechanisms controlling biological rhythms. A new 'research_tv' report describes how scientists at Bielefeld are also advancing research on the biological clock. The biochemist Professor Dr. Dorothee Staiger from Bielefeld University explains what the three Nobel Prize winners have achieved and reports on the discoveries her research team has made together with collaborators.
[Weiterlesen]
Posted by JHeeren
in General
Published on 20. November 2017
Study published by physicists from Bielefeld University
Electronic devices such as computers generate heat that mostly goes to waste. Physicists at Bielefeld University have found a way to use this energy: They apply the heat to generate magnetic signals known as 'spin currents'. In future, these signals could replace some of the electrical current in electronic components. In a new study, the physicists tested which materials can generate this spin current most effectively from heat. The research was carried out in cooperation with colleagues from the University of Greifswald, Gießen University, and the Leibniz Institute for Solid State and Materials Research in Dresden. Their findings are being published today (20.11.2017) in the research journal 'Nature Communications'.
[Weiterlesen]
Posted by NLangohr
in General
Published on 17. November 2017
Researchers use new systems biology methods on plants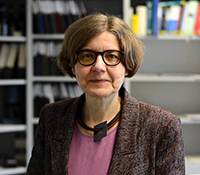 In December, the Nobel Prize for Medicine and Physiology will be awarded for the identification of genes that control the biological clock. The honoured academics examined fruit flies to investigate the molecular basis of biological rhythms. Biochemist Professor Dr. Dorothee Staiger (Photo) of Bielefeld University has been investigating the biological clock of plants for twenty years. Her team has now published a new study in the research journal "Genome Biology". One finding: not only the biological clock, but also a protein acting as an "auxiliary clock" ensures that recurring routines take place in the cells.
[Weiterlesen]
Posted by JHeeren
in General
Published on 2. November 2017
Dr. Christoph Kayser accepts professorship at Bielefeld University / 2 Million Euro Funding from European Research Council

Whether it is the lively activity of a festival, the vibe at the beach, or the chaos at the scene of an accident, the brain classifies these situations at lightning speed. To do this, the brain continuously sorts and combines the information it receives through the eyes, ears, and other sensory organs. Professor Dr. Christoph Kayser, a biologist and mathematician, researches how, and where in the brain, sensory information is integrated. Prof. Dr. Kayser previously headed a research group at the University of Glasgow (Great Britain), and has now accepted a professorship in Cognitive Neuroscience at Bielefeld University. His research is well known internationally: the European Research Council (ERC) provides 2 million Euros to fund his work through 2020.
[Weiterlesen]
Posted by JHeeren
in General
Published on 27. Oktober 2017
Large-scale project at Cluster of Excellence CITEC nearing completion


[Weiterlesen]
Posted by JHeeren
in General
Published on 27. Oktober 2017
Cluster of Excellence CITEC and the company CLAAS introduce research
Tractors and combine harvesters are frequently operated on difficult terrain. Crops such as canola and corn grow at different densities; the field is sometimes muddy and is rocky at other times; and plants often obscure the view of potential impediments. In order to enable harvesting machinery to efficiently and safely harvest crops despite changing conditions, a new system for environment detection has been developed by Bielefeld University's Cluster of Excellence Cognitive Interaction Technology (CITEC) and CLAAS, an agricultural machinery manufacturing corporation located in Harsewinkel, Germany. The joint project is being funded as an innovation project within the it's OWL technology network. The results of the project have been presented on 24 October at a workshop in the CITEC Building.
[Weiterlesen]
Posted by JHeeren
in General
Published on 27. Oktober 2017
2nd Place with cosmetic ingredients from renewable resources

The budding start-up founded by one Master's student and two doctoral researchers from Bielefeld University won the second place in the final round of G-BIB, the "Global Biobased Business Competition." Held in Campos do Jordão, Brazil, this international competition is focused on sustainable business ideas using renewable raw materials. Team Bicomer from Bielefeld uses bacteria for the production of personal care products for the cosmetics market.
[Weiterlesen]
Posted by JHeeren
in General
Published on 23. Oktober 2017
Psychologist at Bielefeld University presents successful treatment method
[Weiterlesen]
Posted by JHeeren
in General
Published on 22. September 2017
Bielefeld physicists publish in the research journal 'Science'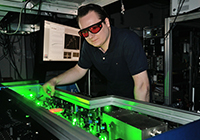 Atoms emit electrons when a material is irradiated with light at a sufficiently high frequency. Previously, physics had assumed that the motion of these photoelectrons is determined by the properties of the material. In a new study, physicists at Bielefeld University have shown that it is the interplay of the electrons within the atom that is decisive. 'Dancing' electrons orbit the nucleus of the atom and require more time than other electrons that shoot out in straight lines. The Bielefeld researchers are the first in the world to confirm the existence of this delay mechanism in a solid. The study has been published this Friday (22.09.17) in the scientific journal 'Science'.
[Weiterlesen]
Posted by JHeeren
in General