uni.news - Tag [fo]
Published on 1. März 2019
Bielefeld University coordinates joint project / Main phase begins
[Weiterlesen]
Posted by JBömer
in General
Published on 19. Februar 2019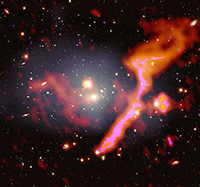 An international team of more than 200 astronomers from 18 countries has published the first phase of a major new radio sky survey at unprecedented sensitivity using the Low Frequency Array (LOFAR) telescope. The survey reveals hundreds of thousands of previously undetected galaxies, shedding new light on many research areas including the physics of black holes and how clusters of galaxies evolve. A special issue of the scientific journal Astronomy & Astrophysics is dedicated to the first twenty-six research papers describing the survey and its first results.
[Weiterlesen]
Posted by NLangohr
in General
Published on 18. Februar 2019
Scientists at the Universities of Würzburg and Bielefeld in Germany have discovered an unusual new light sensor in green algae. The sensor triggers a reaction that is similar to one in the human eye.

Just like land plants, algae use sunlight as an energy source. Many green algae actively move in the water; they can swim to the light or move away from it. For light perception they use special sensors (photoreceptors).
[Weiterlesen]
Posted by NLangohr
in General
Published on 28. November 2018
Conference on the future graduate training of young scholars


During its anniversary conference from 30 November to 1 December, the Bielefeld Graduate School in History and Sociology (BGHS) will look back on ten years' successful training of young researchers as well as the future of promoting young academics. The panel discussion, which will include Professor Dr Peter Strohschneider (President of the German Research Foundation DFG) and Professor Dr Richard Münch (University of Bamberg), will focus on the topic of the conference: "Graduate Training of Young Scholars in Germany – Responsibility for the Future".
[Weiterlesen]
Posted by MBerthold
in General
Published on 16. November 2018
Study at Bielefeld University published in 'Nature Communications'
Their fur was used as a raw material for coats; their fat was used for oil lamps and cosmetics: right up to the end of the nineteenth century, millions of seals were being hunted and killed every year worldwide. The consequences of this episode of commercial hunting for today's seal populations is the subject of a study published today (16.11.2018) in 'Nature Communications'. Population geneticists at Bielefeld University and the British Antarctic Survey have found that eleven seal species only narrowly escaped extinction. The scientists managed to include nearly all of the species alive today in their research. The study nevertheless reveals that most species survived the heyday of seal hunting in sufficient numbers to retain most of their genetic diversity.
[Weiterlesen]
Posted by JHeeren
in General
Published on 14. November 2018
The Cluster of Excellence CITEC and eight partners from four continents are working together as part of the international technology network "InterACT"


Bielefeld University and its Cluster of Excellence Cognitive Interaction Technology (CITEC) have joined the InterACT network. The partners in this network are dedicated to researching and developing technologies that will enhance global communication and cooperation. A total of nine universities and institutes from Asia, Australia, Europe, and North America belong to this network. In addition to Bielefeld University, new members of the network also include Stanford University (USA) and the Queensland University of Technology (Australia). The network is being coordinated by the Karlsruhe Institute of Technology (KIT).
[Weiterlesen]
Posted by MBerthold
in General
Published on 26. Oktober 2018
Joint development of information services planned for life sciences

For some time now ZB MED - Information Centre for Life Sciences and de.NBI - German Network for Bioinformatics Infrastructure have been planning a strategic and content-related cooperation in various areas of the life sciences. The office of the de.NBI network is located at the Center for Biotechnology at Bielefeld University. ZB MED and Bielefeld University have now signed a cooperation agreement cementing their future collaboration. The objective is to work together to provide complementary information services for the life sciences. To this end, the joint appointment of a W3 professorship is envisaged, among other things.
[Weiterlesen]
Posted by JBömer
in General
Published on 4. Oktober 2018
Conference of the Collaborative Research Centre (SFB) 1288 'Practices of Comparing'
When cultures meet, situations of contact are often overwhelming. How do people order the unknown cultural phenomena they encounter? Researchers at Bielefeld University assume that comparisons with the familiar play an important role in this process. They are verifying this assumption by looking at the history of European Expansion and colonization, and they will be discussing this question with international researchers at the conference 'Contact – Conquest – Colonization: Practices of Comparing between Europe, Africa, Asia, and the Americas, from Antiquity to the Present.' The conference will be held from the 11th to the 13th of October at Bielefeld University and is being organized by the Collaborative Research Centre (SFB) 1288 'Practices of Comparing'.
[Weiterlesen]
Posted by JBömer
in General
Published on 14. September 2018
Friendly robot being developed in new project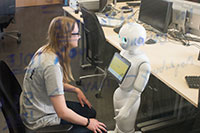 How can robots enrich people's private lives? A research team is investigating this question in the context of the VIVA project, in which the researchers aim to develop a strongly expressive social robot that is perceived as trustworthy and friendly. Researchers from Bielefeld University's Cluster of Excellence Cognitive Interaction Technology (CITEC), the University of Augsburg, and the University of Applied Sciences Bielefeld are working together on this project with three companies from the IT sector. From 19–21 September, a kick-off conference will be held in the CITEC Building, where project members will come together to discuss the research work ahead.
[Weiterlesen]
Posted by MMüller
in General
Published on 16. August 2018
"Science Robotics" journal: Study by CITEC researcher and international colleagues
[Weiterlesen]
Posted by JBömer
in General