Deutsch
uni.news
2nd Place at International Business Competition
Published 27. Oktober 2017, 11:34 h
Start-Up making cosmetic ingredients from renewable resources

The budding start-up founded by one Master's student and two doctoral researchers from Bielefeld University won the second place in the final round of G-BIB, the "Global Biobased Business Competition." Held in Campos do Jordão, Brazil, this international competition is focused on sustainable business ideas using renewable raw materials. Team Bicomer from Bielefeld uses bacteria for the production of personal care products for the cosmetics market.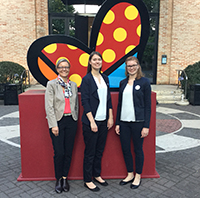 Team Bicomer in Brazil at the BBEST2017 conference (from left): mentor Dr. Petra Peters-Wendisch with Bicomer team members Nadja Henke and Tatjana Walter. Photo: Bielefeld University
The three team members of the Bicomer start-up are pursuing their studies and research in the Faculty of Biology and the Center for Biotechnology (CeBiTec) at Bielefeld University. In the G-BIB competition team Bicomer finished in second place, together with the Dutch team, and the Brazilian team took first place in the world championship.
"Developing our business plan was a lot of work. We have optimized our approach over and over again, and came up a catalog of possible questions in order to prepare ourselves for the discussion with the judges . Everything has now paid off, "says Tatjana Walter, who is studying genome-based systems biology.
Bicomer produces biobased ingredients for the cosmetics industry. These are primarily ingredients with anti-aging effects and protective properties against the carcinogenic ultraviolet radiation. "The core of our business plan is the production of astaxanthin using the fast-growing bacterium Corynebacterium glutamicum," says team member Boas Pucker, a doctoral researcher in genome research. "To develop new products for facial care and other cosmetic applications, we combine astaxanthin with bio-polymers – substances from renewable raw materials. This means that our ingredients are sustainable substitutes for petroleum oil-based polymers, which for the time being have been dominant in the production of cosmetic products."
The G-BIB competition, which is aimed at students and doctoral students in the life sciences from Brazil, the Netherlands and Germany, was held for the first time in 2017. The winners of the national semifinals competed during the Brazilian Bioenergy Science and Technology (BBEST), an international scientific conference held from 17 until 19 October. The competition is supported on the German side by the Industrial Biotechnology Cluster (CLIB2021), which is headquartered in Düsseldorf.
Further Information:
The Team Bicomer: http://www.bicomer.de
The competition: http://www.be-basic.org/g-bib.html

Gesendet von JHeeren
in General