Deutsch
uni.news
Taming uncertainties, profiting from randomness
Published 19. Oktober 2017, 11:47 h
Opening ceremony of the Collaborative Research Centre at Bielefeld University
Uncertainty, chaos, and randomness are ubiquitous in modern societies. In recent decades, probability theory has made major advances in understanding randomness. This has been of great use in biology and physics and has led to new applications in financial markets. Nonetheless, as shown specifically by developments on the financial markets, there are uncertainties that mathematics has yet to grasp exactly, and these can result in great turmoil. Taming this uncertainty, but also gaining a better understanding of randomness in economics, physics, and biology, is the topic of a Collaborative Research Centre that was approved by the German Research Foundation (DFG) in May this year. On the 25th of October, the CRC will be celebrating its kick off with international guests.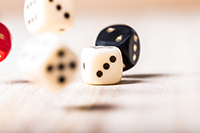 A new Collaborative Research Centre is studying mathematical randomness. Photo: fotolia.com/goldencow_images
'Eventually, we want to use our work to develop theoretical foundations and methods that will help to overcome previously unsolved issues in various areas of economics, physics, and biology,' says Professor Dr. Michael Röckner, the Speaker of the CRC. The foundation of this work is the title of the research project itself: 'Taming uncertainty and profiting from randomness and low regularity in analysis, stochastics and their applications'.
In the Inaugural talk of the conference, Professor Dr. Halil Mete Soner from the ETH Zürich (Switzerland) will be reporting on how approaches within probability theory can be applied within the CRC. The mathematician will be giving his talk in English from 11 to 11.45 a.m. The general public are expressly invited to attend, because Soner's talk will be addressing those foundations of his specialization that are also relevant for other fields: from political decisions, across turbulent financial markets, to risk management.
The CRC is gathering together academics from all over the world at Bielefeld University to do research on mathematical randomness. Even just the doctoral students and post-docs come from China, Croatia, Germany, Italy, Madagascar, New Zeeland, and the Philippines. In total, the CRC is composed of seventeen sub-projects. Whereas most are located at Bielefeld University's Faculty of Mathematics, there are also sub-projects at the Faculty of Physics, the Institute of Mathematical Economics, and the Faculty of Technology.
The Chinese Vice Consul General Tian Qiru from Düsseldorf will also be giving a Welcoming address. Three of the Principal Investigators at the Collaborative Research Centre come from China and are running some of the sub-projects in the total research programme.
The German Research Foundation approved the Collaborative Research Centre in May 2017. The interdisciplinary research programme will initially receive 2.5 million Euros a year for the next four years. Ideally, funding will continue for twelve years broken down into three four-year funding periods. Collaborative Research Centres are long-term university-based research institutions in which researchers work together within a multidisciplinary research programme. They are financed by the German Research Foundation (DFG) and allow researchers to tackle innovative, challenging, complex, and long-term research undertakings.
The Opening Ceremony on the 25th of October will be held in the CITEC lecture hall, Inspiration 1. Journalists are cordially invited to report on the event. Between midday and 2 p.m., the CRC Speaker Professor Dr. Michael Röckner will be available to answer journalists' questions on the research project.
Further information:
• The CRC in the Internet:
www.sfb1283.uni-bielefeld.de
• The complete opening ceremony programme:
www.sfb1283.uni-bielefeld.de/Opening
Gesendet von JBömer
in General