Deutsch
uni.news
Making health information and counselling understandable for patients
Published 1. Februar 2017, 12:11 h
Bielefeld University develops practice guidelines for the health professions

A new brochure presents practical guidelines for counselling patients. It is designed to help consumer and patient counsellors to communicate treatments and diagnoses in an understandable way. Professor Dr. Doris Schaeffer from Bielefeld University's Faculty of Health Science and her team have put together this collection of materials and methods. The brochure, funded by Germany's Federal Ministry of Justice and Consumer Protection, has been published on Thursday, 26 January.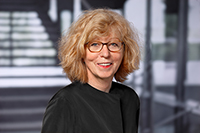 Making people health-literate: That's what Prof. Dr. Doris Schaeffer from Bielefeld University is trying to do with her practice guideline in which she shows how to deliver support to patients and consumers. Photo: Michael Fuchs, Remseck
An everyday situation: doctors or health counsellors want to communicate their diagnoses and recommendations to patients or consumers as understandably as possible. However, both groups find themselves talking at cross purposes with patients themselves being reluctant to pose what they fear will be 'stupid questions'. To prevent such situations arising in the first place, Professor Dr. Doris Schaeffer and her team from Bielefeld University have put together a set of instruments to deliver better counselling. It presents 24 methods such as 'chunk and check' – a way of explaining information bit by bit and not all in one piece.
Further information is available online at:
• Guideline: 'Health literacy: Providing understandable health information and counselling' [in German]: http://www.bmjv.de/Gesundheitskompetenz
• Information page on health literacy [in German]: http://www.uni-bielefeld.de/gesundhw/ag6/hliteracy.html
• Report on Health literacy of the population in Germany [in German]: http://www.uni-bielefeld.de/gesundhw/ag6/downloads/Ergebnisbericht_HLS-GER.pdf
Contact:
Prof. Dr. Doris Schaeffer, Bielefeld University
Faculty of Health Science
Telephone: +49 521 106-3895
Email: doris.schaeffer@uni-bielefeld.de
Gesendet von JHeeren
in General