Deutsch
uni.news
Bielefeld University sets up clearing house for refugees
Published 10. Oktober 2016, 09:28 h
The 2016/2017 winter semester will also offer language courses, learning support, tutorials, and sponsorships

'A year and a half ago, we had the first queries from refugees interested in studying at Bielefeld University,' explains Professor Dr. Angelika Epple, Vice-Rector for International Affairs and Diversity. 'We are now offering refugees a comprehensive programme based on three pillars: clearing, orientation, and language.' In the coming 2016/2017 winter semester, more than 80 refugees will be taking orientation and language courses at Bielefeld University.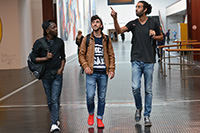 The Bielefeld student teacher Maurice Theis shows the university from a student perspective to Farhad Khalil from Syria and Oumar Diakhaby from Guinea (from right to left). Photo: Bielefeld University
Pillar 1: Clearing house
On the 1st of September 2016 with the support of the Stiftung Mercator foundation, the university set up a clearing house for refugees who want to study. It has been designed to offer comprehensive orientation at one location. 'Each person will be dealt with individually in order to determine whether they are eligible for which study course, which preconditions they have to meet, and which alternatives might be available,' explains Dr. Thomas Lüttenberg from the International Office, who is also the University Commissioner for Refugees. Alongside Bielefeld, the Stiftung Mercator is supporting three further locations in North Rhine-Westphalia. Together with the RWTH Aachen University, TU Dortmund University, and the University of Duisburg-Essen, the clearing house in Bielefeld is designed to establish an advisory network for the entire federal state that provides a comprehensive qualification and further training programme. All higher education institutes in North Rhine-Westphalia should benefit from these services.
Pillar 2: Orientation
The Naturwissenschaftliche Orientierungsstudium (NAWIOS), a preparatory course in the natural sciences, provides access to introductory lectures in biology, chemistry, physics, mathematics, and informatics in which refugees can participate with the status of occasional students (Gasthörer). The core of NAWIOS is a bridging course in mathematics with an accompanying tutorial along with eight hours a week of German language teaching. 'The preparatory course is designed for all those who are interested in studying the natural sciences,' explains Dr. Andrea Frank, head of the Centre for Teaching and Learning (ZLL). In the 2015/2016 winter semester, eleven refugees took part in NAWIOS. Four of these will be starting regular studies in the 2016/2017 winter semester.
Pillar 3: Language
In August, 23 refugees improved their German in an intensive language course. In the coming 2016/2017 winter semester, refugees with a good knowledge of German will be able to prepare for and take the DSH examination (German language exam for admission to university courses given in the German language). As well as providing advice and placement tests, both Bielefeld University and Bielefeld University of Applied Sciences are cooperating closely in offering two courses on the B2 level and one course on the B1 level. A total of 70 places are available, participation is free of charge for refugees, and course materials are provided. The service consists of group courses and individual supervision for 30 hours per week. The language courses are being funded by the German Academic Exchange Service (DAAD).
The language courses already started on the 19th of September. The NAWIOS introductory course will commence on the 17th of October and run for one semester. Participants come mostly from Syria followed by Iran, Afghanistan, Tunisia, Guinea, and the Palestinian region.
Refugees who are interested in studying can get in touch with Daniela Bartel, Coordinator of the 'Refugees and studies' clearing house:
Telephone: 0521 106- 67542
Email: refugees@uni-bielefeld.de
Further information is available online:
Information for refugees:
www.uni-bielefeld.de/refugees
Application form for mentors:
www.uni-bielefeld.de/richtig-einsteigen/studierende/anmeldung.html

Gesendet von NLangohr
in General