Deutsch
uni.news
Bielefeld University popular with international researchers
Published 4. September 2017, 11:46 h
Twelfth place in the Humboldt Rankings

Bielefeld University holds a leading position in the '2017 Humboldt Rankings'. In the full ranking, it is now twelfth among the 79 universities rated. In the state of North Rhine-Westphalia, this now puts it in third place behind the University of Bonn and RWTH Aachen University.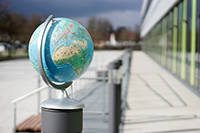 Between 2012 and 2016, a total of 69 international academics came to Bielefeld University through the Alexander von Humboldt Foundation. Photo: Bielefeld University
'The Humboldt Rankings are an important benchmark for us. They are one way of demonstrating our international networking and reputation,' says Professor Dr.-Ing. Gerhard Sagerer, Rektor of Bielefeld University. 'They show how we – as a medium-sized university with an attractive research profile – can successfully compete with the big German universities.'
The Humboldt Rankings also rank single academic areas. In the popularity ranking for the natural sciences (including mathematics), Bielefeld University is in sixth place. With its specialization in informatics, Bielefeld University is also a good address for engineers. Here it takes fourteenth place in Germany.
These rankings are based on weighted numbers. To avoid distorted statistics due to the different sizes of guest universities, the rankings relate the number of guests to the number of professorships at each university.
The Rankings are published by the Alexander von Humboldt Foundation that is responsible for awarding scholarships to foreign academics who want to carry out research in Germany. Scholarship holders are free to decide for themselves which German university they wish to attend. New rankings are published every three years. They assess the research stays of Humboldtians between 2012 and 2016, and are based on calculating the number of research stays by top international academics and young academics who carried out research in Germany during this five-year period as holders of scholarships or winners of prizes awarded by the Alexander von Humboldt Foundation.
Further information:
The 2017 Humboldt Rankings:
www.humboldt-foundation.de/web/humboldt-ranking-2017.html
Gesendet von NLangohr
in General