uni.news
Published on 27. Januar 2020
The Bielefeld University Society (UGBi) awards prizes for the best doctoral theses at the university. Topics range from genetic diversity in seals across nanomembranes to a sense of responsibility in artificial intelligence.
[Weiterlesen]
Posted by JHeeren
in General
Published on 7. Januar 2020
More data and better algorithms: predictions are becoming increasingly more accurate and this is changing insurance policies, medicine, and police work.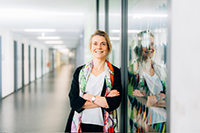 Police that can predict future crimes: it sounds like the plot from the science fiction thriller 'Minority Report' in which Tom Cruise hunts murderers before they can commit their crimes. Such a scenario is not that far distant from reality—already today, for example, the police are using computers to prevent burglaries. 'Predictive policing' aims to use enormous datasets and complex algorithms to predict offences as accurately as possible. Similar developments are to be found in insurance and medicine. Here as well, more data and better algorithms are making more accurate and more individualized predictions. Car insurance, for example, is using data collected on driving style when calculating tariffs; and cancer medicine is promising personalized treatment methods for patients with specific genetic characteristics.
[Weiterlesen]
Posted by HMetzen
in General