uni.news
Published on 29. Oktober 2019
A new study commissioned by the World Health Organization (WHO) and conducted by researchers at the University Bielefeld and University Hospital Heidelberg shows data gaps and policy options for the 53 Member States.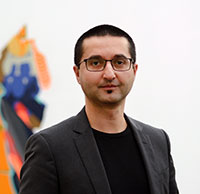 The WHO Regional Office for Europe has commissioned a new report reviewing evidence on the availability and integration of data for health and health care among refugees and migrants in health information systems across the WHO European Region. Results are in-tended to support the 53 Member States by informing national policies and international cooperation activities to improve refugee and migrant data. The research was conducted under the leadership of Professor Dr. Kayvan Bozorgmehr, Department of Population Medi-cine and Health Services Research and research group leader at the University Hospital Heidelberg.
[Weiterlesen]
Posted by NLangohr
in General
Published on 18. Oktober 2019
Conference to be held at Cluster of Excellence CITEC from 24–25 October
Artificial intelligence attempts to emulate human problem-solving abilities. That said, "thinking" technical systems are not automatically able to put themselves in other people's shoes and interact with them according to the particularities of the situation. With the establishment of the Cluster of Excellence Cognitive Interaction Technology 12 years ago, researchers began working on developing technology that adapts to the human user. At the 2019 CITEC Conference from 24–25 October 2019, re-searchers will present the fruits of their research and discuss how their approaches can contribute to future advancements in the field of cognitive interaction technology. The conference, which will be held at the CITEC Building, is called "Cognitive Interaction Technology Meets AI." Renowned robotics researchers Professor Dr. Hiroshi Ishiguro from Japan and Dr. Guilio Sandini of Italy will deliver the keynote lectures. Both talks will be open to the public.
[Weiterlesen]
Posted by JBömer
in General
Published on 11. Oktober 2019
Japanese researcher on campus for 2019 CITEC Conference at Bielefeld University
The science fiction drama "Sayōnara" is considered to be the first film with an android as an actor. "Geminoid F" portrays a faithful robot who stays at the side of young, sick woman after a nuclear contamination. The Geminoid F robot was developed by Japanese robotics researcher Professor Dr. Hiroshi Ishiguro, who became known worldwide after having constructed a robot doppelgänger of himself. "Science Cinema Special" will screen "Sayōnara" on Wednesday, 23 October, which will then be accompanied by a discussion with Dr. Hiroshi Ishiguro. The film will be shown at 7pm the Kamera Filmkunsttheater in Bielefeld as part of the pre-program of the CITEC Conference 2019.
[Weiterlesen]
Posted by JHeeren
in General