uni.news
Published on 20. September 2019
University researchers improve super-resolution microscopy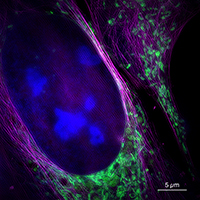 They can make tiny cell structures visible: cutting-edge light microscopes offer resolutions of a few tenths of a nanometre—in other words, a millionth of a millimetre. Until now, super-resolution microscopes were much slower than conventional methods, because more or finer image data had to be recorded. Together with partners from Jena, researchers from Bielefeld University have now developed the super-resolution SR-SIM process further. The academics show that SR-SIM is also possible in real time and at a very high imaging rate—and thus suitable for observing movements of very small cell particles, for example. Their findings have been published today (20 September) in the journal "Nature Communications".
[Weiterlesen]
Posted by HMetzen
in General
Published on 16. September 2019
Rector Gerhard Sagerer thanks everybody 'who has contributed to this splendid outcome'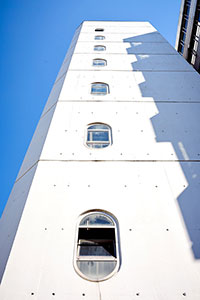 Bielefeld University has made a great leap forward in the new Times Higher Education (THE) Ranking that was published yesterday (11.09.2019): from Rank 250 to Rank 166. The British academic journal THE compares 1,400 universities across 92 countries in the world.
[Weiterlesen]
Posted by HMetzen
in General
Published on 11. September 2019
ZiF conference on late socialist societies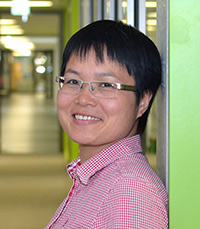 In recent decades, the centrally planned socialist economy in countries such as Laos, China, and Vietnam has been replaced by a market economy that remains under the political rule of the Communist party. The resulting changes to society have had profound implications on the idea of the good life—from deliberations on housing to those around religion. This is the topic of the conference entitled 'The Good Life in Late Socialist Asia: Aspirations, Politics, and Possibilities' to be held from 16 to 18 September at Bielefeld University's Center for Interdisciplinary Research (ZiF). The conference also marks the launch of the 'WelfareStruggles' project for which the social anthropologist Professor Dr Minh Nguyen is receiving an ERC Starting Grant from the European Research Council—one of the most important EU research grants.
[Weiterlesen]
Posted by HMetzen
in General
Published on 3. September 2019
ERC Starting Grant for highly promising young scientists goes to Dawid Kielak
[Weiterlesen]
Posted by JBömer
in General