uni.news
Published on 30. Juli 2019
Research project at Bielefeld University being funded by Volkswagen Stiftung
Social Bots are believed to have influenced public opinion in the 2016 U.S. presidential election. And before the European Parliamentary election, an EU Commissioner warned of disinformation campaigns being waged with Social Bots. Social Bots are specialized computer programs made specifically to communicate over social media. What impact are Social Bots having on societal discourse? And how might technical systems be used to combat these Bots? Researchers from Bielefeld University, the University of Applied Sciences Bielefeld, and the Australian National University are working on these questions as part of a research project that is being funded by the Volkswagen Stiftung (Volkswagen Foundation).
[Weiterlesen]
Posted by MBerthold
in General
Published on 29. Juli 2019
Institute for Bioinformatics Infrastructure founded by Faculty of Technology
Prof. Dr. Jens Stoye, who specializes in genome informatics, serves as acting director of the new Bielefeld Institute for Bioinformatics Infrastructure (BIBI). Photo: Bielefeld University
"The quantities of data that we in the life sciences work with are constantly growing. This has made analyzing and storing data a big challenge," says Professor Dr. Jens Stoye, member of the Genominformatik ("Genome Informatics") research group in Bielefeld University's Faculty of Technology. Dr. Stoye is the acting director of the new institute.
[Weiterlesen]
Posted by MBerthold
in General
Published on 24. Juli 2019
University researchers publish study on new telescope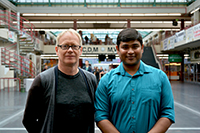 The Square Kilometre Array (SKA) is set to become the largest radio telescope on Earth. Bielefeld University researchers together with the Max Planck Institute for Radio Astronomy (MPIfR) and international partners have now examined the SKA-MPG telescope—a prototype for the part of the SKA that receives signals in the mid-frequency range. The study, published today (24 July) in the journal 'Monthly Notices of the Royal Astronomical Society', shows that the telescope is not only a prototype to test the SKA design, but can also be used on its own to provide insights into the origin of the Universe. The German Federal Ministry of Education and Research (BMBF) is funding the work on the SKA-MPG through a joint research project coordinated by Bielefeld University.
[Weiterlesen]
Posted by HMetzen
in General
Published on 11. Juli 2019
Bielefeld University participates in Helmholtz Association project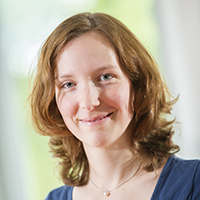 How will the climate change, how certain is our energy supply, and what are the potentials of molecular medicine? Through statistical analyses, large amounts of data on the greatest variety of issues can be processed in ways that permit new knowledge and predictions. Nonetheless, predictions are always accompanied by uncertainty. The new project 'Uncertainty Quantification' is applying methods from probability theory to integrate uncertainty into analyses appropriately in order to calculate the reliability of predictions. The project is headed by Professor Dr Christiane Fuchs from Bielefeld University and Professor Dr Martin Frank from the Karlsruhe Institute of Technology. A total of four million euros is being invested in this research, and it is receiving funding from the Helmholtz Association of German Research Centers.
[Weiterlesen]
Posted by JHeeren
in General
Published on 8. Juli 2019
Funding for new research group at Bielefeld University
The German Research Foundation (DFG) is providing a research group at Bielefeld University with around three million euros in funding to investigate health inequalities as exemplified by the health of refugees. Their findings should help to improve the health system for other disadvantaged groups as well. The group's spokesperson is Professor Dr Oliver Razum, his deputy is Professor Dr Kayvan Bozorgmehr; both are from the School of Public Health.
[Weiterlesen]
Posted by NLangohr
in General