uni.news
Published on 28. März 2019
The Bielefeld sociologist is studying what happens to society when algorithms predict the future
[Weiterlesen]
Posted by JBömer
in General
Published on 28. März 2019
Bielefeld University exhibiting at 2019 Hannover Trade Fair
From 1-5 April, Bielefeld University will be exhibiting at the 2019 Hannover Messe (Hannover Trade Fair) with the Research Institute for Cognition and Robotics (CoR Lab) and the Cluster of Ex-cellence Cognitive Interaction Technology (CITEC). The researchers will be presenting their plat-forms and applications for machine learning. One example of their work is a new method for quickly adjusting hand prostheses: The system enables flawless control of hand prostheses – even if the measuring electrodes have moved on the user's skin. This system is one of four presentations by Bielefeld University, one of which belongs to a new start-up company founded by CITEC researchers.
[Weiterlesen]
Posted by JHeeren
in General
Published on 7. März 2019
International research team confirms twofold ability of molecules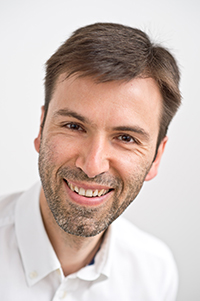 Bacteria, plants, insects, or even fish use antifreeze proteins to protect themselves from the cold. The proteins block the growth of ice crystals. In a new study, a German–Israeli research team has confirmed that these proteins also possess an unusual second property: at low temperatures, they can promote rather than inhibit the growth of ice crystals. The study brought together researchers from Bielefeld University, the Hebrew University of Jerusalem, and the Weizmann Institute of Science in Rehovot (Israel). It is being published today (07.03.2019) in the 'Journal of Physical Chemistry Letters'.
[Weiterlesen]
Posted by JHeeren
in General
Published on 1. März 2019
Bielefeld University coordinates joint project / Main phase begins
[Weiterlesen]
Posted by JBömer
in General