uni.news
Published on 19. Februar 2019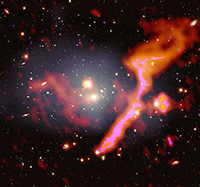 An international team of more than 200 astronomers from 18 countries has published the first phase of a major new radio sky survey at unprecedented sensitivity using the Low Frequency Array (LOFAR) telescope. The survey reveals hundreds of thousands of previously undetected galaxies, shedding new light on many research areas including the physics of black holes and how clusters of galaxies evolve. A special issue of the scientific journal Astronomy & Astrophysics is dedicated to the first twenty-six research papers describing the survey and its first results.
[Weiterlesen]
Posted by NLangohr
in General
Published on 18. Februar 2019
Scientists at the Universities of Würzburg and Bielefeld in Germany have discovered an unusual new light sensor in green algae. The sensor triggers a reaction that is similar to one in the human eye.

Just like land plants, algae use sunlight as an energy source. Many green algae actively move in the water; they can swim to the light or move away from it. For light perception they use special sensors (photoreceptors).
[Weiterlesen]
Posted by NLangohr
in General