uni.news
Published on 14. September 2018
Friendly robot being developed in new project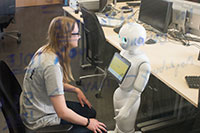 How can robots enrich people's private lives? A research team is investigating this question in the context of the VIVA project, in which the researchers aim to develop a strongly expressive social robot that is perceived as trustworthy and friendly. Researchers from Bielefeld University's Cluster of Excellence Cognitive Interaction Technology (CITEC), the University of Augsburg, and the University of Applied Sciences Bielefeld are working together on this project with three companies from the IT sector. From 19–21 September, a kick-off conference will be held in the CITEC Building, where project members will come together to discuss the research work ahead.
[Weiterlesen]
Posted by MMüller
in General
Published on 12. September 2018
Next step in the cooperation with the Canadian province of Alberta


Bielefeld University's Faculty of Educational Science and Faculty of Health Sciences are taking the lead: Their representatives are travelling to the province of Alberta from the 14th to the 19th of September for the first two binational workshops with Canadian partners. They will also be discussing future cooperation plans and the exchange of students and interns between educational institutions in both regions – and cooperation with further faculties and academic institutes.
[Weiterlesen]
Posted by MBerthold
in General
Published on 10. September 2018
Researchers publish findings on insect antenna flexibility and structure


For hundreds of millions of years, insects have used specialized antennae to explore their surroundings. For this tactile exploration, the antennae have to stiff enough to allow for active, controlled movement, while at the same time compliant enough to prevent damage when coming into contact with objects. How do insects solve this problem? And can the solution be used for biologically inspired robots? In an interdisciplinary project, researchers from Kiel University, Bielefeld University, and the Hochschule Bremen City University of Applied Sciences are working together to get to the bottom of this question.
[Weiterlesen]
Posted by MBerthold
in General
Published on 7. September 2018
47 certificates for successful candidates in the current year
Passing their DSH-Prüfung is a major milestone for refugees wishing to take up university studies. The 120th DSH certificate gained since the start of preparatory German language courses for refugees at Bielefeld University in 2016 will be awarded at a small ceremony today (07.09.). Eleven of this year's successful candidates intend to use their certificates to start studying at Bielefeld University or Bielefeld University of Applied Sciences.
[Weiterlesen]
Posted by JBömer
in General
Published on 3. September 2018
Exchange of email server
The email server of Bielefeld University will be exchanged from Friday September 7th noon until Monday morning September 10th.
[Weiterlesen]
Posted by JBömer
in General