uni.news
Published on 9. Juli 2018
Outstanding: computer science, mathematics, psychology, and sociology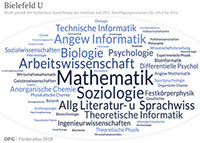 Bielefeld University's researchers are particularly successful in obtaining third-party funding from the German Research Foundation (DFG). This is one of the findings presented in the 2018 DFG Funding Atlas published today (5/7/2018). The Atlas compiles DFG funding awarded to universities for the years 2014 to 2016.
[Weiterlesen]
Posted by NLangohr
in General
Published on 9. Juli 2018
First year of the programme for refugee teachers in its final phase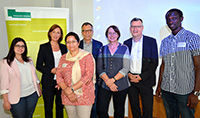 For almost a year now, 24 refugee teachers from Afghanistan, Armenia, Guinea, Iraq, Pakistan, and Syria have been taking part in the "Lehrkräfte Plus" programme at Bielefeld University with the aim of qualifying to work in German schools. Today (2/7/2018), Yvonne Gebauer (FDP), Minister of Schools and Education for North-Rhine Westphalia, visited the pioneer project in Bielefeld. In the final phase of the first year, she spoke with participants, coordinators, representatives of Bielefeld University, the cooperation partner, the Bertelsmann Foundation, contacts from schools offering internships, representatives of the Detmold and Arnsberg district governments, and other cooperation partners about successes, challenges and prospects.
[Weiterlesen]
Posted by NLangohr
in General