uni.news
Published on 31. Juli 2018
Scientists at Bielefeld studying niche construction
Aphids – who hasn't been bothered by these little insects at one time or another? Why do they reproduce on plants so successfully? These are among the questions that Professor Dr Caroline Müller and her research team are addressing at Bielefeld University's Faculty of Biology. They have found out that aphids are able to influence the quality of their food, and that this may enable them to construct a niche on their own host plants. Müller's research team is located in the Transregio Collaborative Research Centre 'NC3' that is studying animals and their 'individual niches. Today (25.07.2018), they have published their findings in the journal 'New Phytologist'.
[Weiterlesen]
Posted by NLangohr
in General
Published on 27. Juli 2018
ERC Starting Grant for Professor Dr Minh Nguyen
[Weiterlesen]
Posted by JBömer
in General
Published on 23. Juli 2018
"Human Brain Project" at Bielefeld University extended for two years

Professor Dr. Ulrich Rückert, a researcher at Bielefeld University's Cluster of Excellence CITEC and the Faculty of Technology, is working to better understand the human brain with the help of computer-based models. This project is taking place throughout the European Union – the goal of which is to gather findings on the brain and make new connections with this information.
[Weiterlesen]
Posted by NLangohr
in General
Published on 11. Juli 2018
The natural way in which living beings orient themselves and move in their environment, avoid obstacles, and find their way home again without their brain consuming much energy is a model for scientists who also want to equip robots with such complex abilities. Because in this field there is a wide gulf between the brain and electronics. The exchange of expertise between behavioural neurologists and robotics scientists is the focus of a symposium at the FENS Forum 2018 in Berlin (7.-11.7. 2018).
[Weiterlesen]
Posted by NLangohr
in General
Published on 9. Juli 2018
Outstanding: computer science, mathematics, psychology, and sociology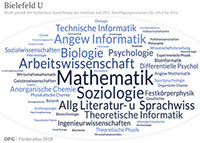 Bielefeld University's researchers are particularly successful in obtaining third-party funding from the German Research Foundation (DFG). This is one of the findings presented in the 2018 DFG Funding Atlas published today (5/7/2018). The Atlas compiles DFG funding awarded to universities for the years 2014 to 2016.
[Weiterlesen]
Posted by NLangohr
in General
Published on 9. Juli 2018
First year of the programme for refugee teachers in its final phase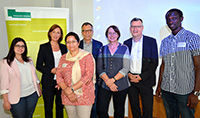 For almost a year now, 24 refugee teachers from Afghanistan, Armenia, Guinea, Iraq, Pakistan, and Syria have been taking part in the "Lehrkräfte Plus" programme at Bielefeld University with the aim of qualifying to work in German schools. Today (2/7/2018), Yvonne Gebauer (FDP), Minister of Schools and Education for North-Rhine Westphalia, visited the pioneer project in Bielefeld. In the final phase of the first year, she spoke with participants, coordinators, representatives of Bielefeld University, the cooperation partner, the Bertelsmann Foundation, contacts from schools offering internships, representatives of the Detmold and Arnsberg district governments, and other cooperation partners about successes, challenges and prospects.
[Weiterlesen]
Posted by NLangohr
in General
Published on 2. Juli 2018
Three questions for Dr. Olga Abramov, researcher at the Cluster of Excellence CITEC
[Weiterlesen]
Posted by JBömer
in General