uni.news
Published on 26. Februar 2018
International research project on the border between physics and chemistry
[Weiterlesen]
Posted by JBömer
in General
Published on 22. Februar 2018
Bielefeld University organizing international conference on optical nanoscopy (ICON)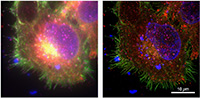 The US-American Nobel Prize winner Professor William E. Moerner together with more than 150 researchers and companies from all over the world will be attending the International Conference on Nanoscopy (ICON 2018) in Bielefeld from the 27th of February till the 2nd of March. The latest developments in the field of optical nanoscopy and their application in biology and biomedicine will be discussed at the meeting. Bielefeld University's Faculty of Physics is organizing the conference together with the Gesellschaft zur Förderung des Forschungs- und Technologietransfers (GFT e.V.) and the company Bionano-Solutions. It will be held in the conference rooms of the Bielefeld University of Applied Sciences.
[Weiterlesen]
Posted by NLangohr
in General
Published on 19. Februar 2018
Federal Health Minister Gröhe: "With this roadmap, we can achieve a great deal."

Every second person in Germany has only limited health literacy. It is hard for them to understand and evaluate health-related information. A team of experts from academia and the healthcare field, led by Doris Schaeffer and Ullrich Bauer from the University of Bielefeld, Klaus Hurrelmann from the Hertie School of Governance and Kai Kolpatzik from the AOK national association (AOK-Bundesverband), want to combat this deficit with a "National Action Plan for Health Literacy". The plan offers 15 concrete recommendations involving all the relevant actors, and aims to make the healthcare system more user-friendly and promote citizens' health literacy. The "National Action Plan for Health Literacy" is an initiative of the academics and is sponsored by the Federal Minister of Health. The Robert Bosch Foundation and the AOK-Bundesverband funded the work.
[Weiterlesen]
Posted by JBömer
in General