uni.news
Published on 26. Januar 2018
University Society awards Dissertation Prizes
On the 23rd of January, the Bielefeld University Society (UGBi) awarded Dissertation Prizes to young academics at Bielefeld University: the award goes to the best doctoral thesis of 2017 in each faculty. All 17 theses proposed by the faculties had received the highest classification of 'summa cum laude'. This is the first time so many prizes have been awarded, and also the first time a prize winner has come from the Bielefeld School of Education (BiSED).
[Weiterlesen]
Posted by NLangohr
in General
Published on 5. Januar 2018
Bielefeld biochemists confirm cause of initially unclear symptoms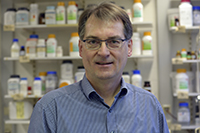 The sequencing of the human genome has made it possible: nowadays scientists can discover potential disorders for which there are no known patients. Such a disorder is 'MPS III-E', originally also called 'Dierks's disorder' after its discoverer. Doctors at the Hadassah-Hebrew University Medical Center in Jerusalem (Israel) found consistent symptoms of progressive blindness in three patient families that indicated the presence of a previously unknown genetic defect. Genome analyses at the University of Lausanne (Switzerland) delivered a candidate gene on which Professor Dr. Thomas Dierks from Bielefeld University had already published a research article in 2012. Studies by Dierks' research team now revealed that these patients indeed suffer from 'MPS III-E'. The researchers are now presenting their analysis in the journal 'Genetics in Medicine', published by the Nature Publishing Group.
[Weiterlesen]
Posted by JHeeren
in General
Published on 4. Januar 2018
Bielefeld University coordinating pan-European project with six partners

[Weiterlesen]
Posted by JBömer
in General
Published on 2. Januar 2018
CITEC Cluster of Excellence Project Accelerates Avatar Generation
[Weiterlesen]
Posted by JBömer
in General