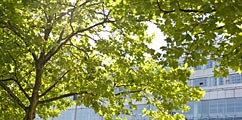 Frau PD Dr. Astrid Haas: Kontakt
Modulverantwortliche für
Curriculum Vitae
Education
2 / 2016: Habilitation (Postdoctoral Degree), Bielefeld University
4 / 2007: Ph.D., English and American Studies, University of Münster
10 / 2000: M.A., Art History, English and American Studies, Modern and Contemporary History, University of Münster
1994 - 2000: Studied Art History, English and American Studies, and Modern and Contemporary History, University of Münster and College of William and Mary, Williamsburg, VA, USA
Academic Career
10 / 2015 - : Lecturer (Lehrkraft für besondere Aufgaben), University of Wuppertal
10 / 2014 - 7 / 2015: Adjunct Lecturer in American Studies, Department of Linguistics and Literatures, Bielefeld University
02-03 / 2013: Postdoctoral Research Stay, University of Texas Libraries, Austin, TX
10 / 2012 Visiting Scholar, Instituto Mora and Universidad Nacional Autónoma de México, Mexico City
6 / 2011 - 5 / 2014: Postdoctoral Researcher in American Literature and Culture, Bielefeld University; Research Project Lone Star Vistas: The Construction of Texas in U.S.-American, Mexican, and German Travel Narratives, 1821-1861 (sponsored by the German Research Foundation)
1-5 / 2011: Research Fellow, Bielefeld Young Scholars Fund, Bielefeld University
2011 - : Academic Member, Center for Inter-American Studies (CIAS), Bielefeld University
10 / 2010 - 3 / 2011: Adjunct Lecturer in American Studies, Department of Linguistics and Literatures, Bielefeld University
11 / 2007 - 10 / 2010: Research Group Assistant for North American Studies, Research Group E Pluribus Unum? Ethnic Identities in Transnational Integration Processes in the Americas, Center for Interdisciplinary Research (ZiF), Bielefeld University
10 / 2004 - 3 / 2005: Adjunct Lecturer in English and American Studies, English Department, University of Münster
09 / 2004: Doctoral Research Stay, New York Public Library for the Performing Arts and New York University, New York City
10 / 2002 - 2 / 2003: Tutor, Sociology Department, University of Münster
08 / 1997 - 5 / 1998: German Language House Tutor, The College of William and Mary
Scholarships, Grants, and Awards
6 / 2011 - 5 / 2014: Postdoctoral Research Fellowship, German Research Foundation
1-5 / 2011: Postdoctoral Research Fellowship, Young Scholars' Fund of Bielefeld University
2011 - 2012: Two Conference Travel Grants, Bielefeld University
2011 - 2011: Two Conference Travel Grants, German Academic Exchange Service
2010: Publication Grant, German Academic Women's Union, for the monograph Stages of Agency
10 / 2004 - 3 / 2005: Teaching Fellowship, Office of Gender Equality, University of Münster
11 / 2001 - 10 / 2003: Ph.D. Scholarship and Conference Travel Grant, Government of North-Rhine-Westphalia
2001: Promotion of Women's Issues Award, University of Münster (awarded as member of the student association Genus)
Teaching in Bielefeld
(for my courses at the University of Wuppertal, see my homepage there:
http://www.anglistik.uni-wuppertal.de/ueber-uns/personal/haas.html)
Sumer Term 2015: (En)Gendering American Modernism, 1920-1940 (seminar); American Political Theater and Drama (seminar)
Winter Term 2014-15: Early African American Autobiography (seminar)
Summer Term 2013: The Mediterranean in 19th-Century American Literature (seminar)
Summer Term 2012: American Sports Cultures (seminar)
Summer Term 2011: From Colony to Republic: Early American Literature and Politics, 1770-1820 (seminar)
Winter Term 2010-11: Brave New World(s)? Literatures and Cultures in Colonial North America (seminar)
Summer Term 2010: Science and Narrative in 19th-Century America (seminar)
Summer Term 2009: The U.S.-American City: Visions, Discourses, Representations (seminar)
Winter Term 2008-09: Broadway and Beyond: 20th-Century American Theater and Drama (seminar)
Organization of Events
2012: Co-Organized the International Postgraduate Forum conference Exploring the Periphery, Bielefeld University
2008 - 2009: Organized nine conferences, symposia, and workshops with the Research Group E Pluribus Unum, Center for Interdisciplinary Research, Bielefeld University
2000 - 2005: Organized six lecture series and a conference with the student association Genus--Münsteraner Arbeitskreis für Gender Studies, University of Münster
Professional Memberships
German Association for American Studies (DGfA)
Collegium for African American Research (CAAR)
Society for Multi-Ethnic Studies: Europe and the Americas (MESEA)
Internatoinal Association for Inter-American Studies (IAS)
Western Literature Association (WLA)
Deutscher Hochschulverband (DHV)
Aktuelle Forschungsthemen
Research Area
North American Literary and Cultural Studies
Research Interests
Travel Writing, Drama and Autobiography
Ethnic (especially African American) and Gender Studies
Inter-American Studies
Literature and Medicine
Popular Culture (Sports, Music, Film)
Most Recent Major Research Project (2011-2015):
Lone Star Vistas: Constructions of Texas in U.S.-American, Mexican, and German Travel Narratives, 1821–1861
The research project analyzes narrative constructions of Texas as a geographic, social, and (trans)cultural space from Mexican Independence (1821) to the beginning of the U.S. American Civil War (1861) in selected works of American, Mexican, and German travel writing. Through the lens of the travelogue, it looks at the ways the three major non-indigenous ethnic groups that settled in the region contributed to the public discourses on Texas during the most formative years of its history. Previous research on nineteenth-century Texas has almost exclusively focused on the periods of independent (1836–1845) and—to an even larger extent—U.S. American Texas (since 1845). Studies on the era's travel writing of the United States have not only largely excluded Texas but also limited themselves to analyzing a single national literature, respectively. The present project is based on the assumption that travel narratives, both domestic and foreign, contribute to shaping national and regional identities, cultures, and landscapes. It closes a gap in the scholarship on Texas in the first half of the nineteenth century from a comparative, transnational perspective. With its exemplary analysis of different types of travelogues, the project further contributes to the theory and systematic study of this genre of writing.