Deutsch
uni.news
Dorm dictionary as app
Published 29. März 2012, 15:32 h
Free programme for iPhones and Android smartphones

The illustrated trilingual dorm dictionary is now available as an app. Students attending the 'Vorsicht Mobile Marketing!' course at Bielefeld University have developed a digital version of the dictionary for smartphones and tablets. Called 'idormdict' (International Dorm Dictionary for students), the programme is designed to help international students find their way through daily dorm life – just like the printed version that has been distributed to more than 60,000 students in several regional and one transregional editions. The new app runs on iPhones, Android smartphones, and tablets such as iPads. You can now download this short programme free of charge from the Internet under www.idormdict.de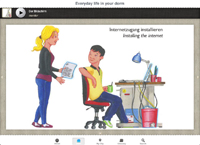 Bielefeld University's app follows the illustrated dorm dictionary's style and shows typical everyday situations in a student's life.
The app follows the style of the illustrated dorm dictionary and shows pictures of typical everyday situations in a student's life. By selecting one of the highlighted objects in the pictures, you can see the German word together with an English and Chinese translation. The programme even offers a pronunciation aid – all German translations are available as audio files. The illustrated dorm dictionary also provides a glossary containing translations of more than 300 further words and sentences. The 'My City' feature provides important addresses and telephone numbers to make life easier for international students.
In the 2011/12 winter semester, 25 students worked together on a course run by the media education specialist Fabio Magnifico. The programmer Mathias Gerdt helped the students to prepare the illustrated dorm dictionary as an app. The course participants also produced commercials for the new programme and developed the 'idormdict' Webpage.
The topics covered by this illustrated dorm dictionary range from installing the Internet through cooking, dorm cleaning, and partying up to saving energy and recycling waste. Florian Geppert's illustrations present a series of typical daily dorm situations that are then tagged with words (in German, English, and Chinese). The printed version, published in 2010, was a joint project by Bielefeld University's International Office and the Studentenwerk Bielefeld [Association for Student Affairs].

For further information in the Internet, go to:
Homepage of the 'idormdict' app:
www.idormdict.de
App trailer:
http://youtu.be/iwEC8dD2-28
Press release dated 13.04.2011on the illustrated dorm dictionary:
www.uni-bielefeld.de/wohnheimwoerterbuch
Contact:
Dr. Thomas Lüttenberg, Bielefeld University
Head of the International Office
Telephone: 0521 106-4088
Email: thomas.luettenberg@uni-bielefeld.de
Fabio Magnifico, Bielefeld University
Faculty of Educational Science
Telephone: 0521 106-4357
Email: fabio.magnifico@uni-bielefeld.de
Gesendet von NLangohr
in General