Deutsch
uni.news
Bielefeld students present their short film at Cannes
Published 23. May 2012, 11:18 h
Blue Identity – filming the refugee problem in Germany

The prospective media researcher Emrah Turan and the linguistics student Kristin Nahrmann have produced a short film Nasnameyek Hêşîn (The Blue Identity, Der Blaue Pass) on the status of refugees in Germany directed by Mümin Baris. The film has now been accepted for the Short Film Corner in Cannes, and will be shown to a large audience of film experts on 16 May. Both students have been active in the film industry since 2011.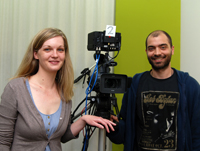 Kristin Nahrmann and Emrah Turan are hoping for new contacts in the film industry.
Their current short film, which is being presented at Cannes, deals with the daily life of two Kurdish refugees in Berlin. It presents two perspectives on coping with never being able to return to one's home country. Two men both live for themselves, cut off from society, in a small apartment. One occupies himself with his pigeons from Turkey; the other lives for his music. The 20-minute film is based on real events.
To view the trailer of the film, go to the following link:
http://vimeo.com/40660811
Parallel to their studies, the two film enthusiasts have set up their own film production company LAYLA. In their first film on 'Young adults with epilepsy', they already worked with Mümin Baris as assistant directors. Based on the concept of the nationwide self-help organization 'Junge Erwachsene mit Epilepsie' [Young adults with epilepsy] who meet regularly in Bielefeld-Bethel, they produced a German–Turkish documentary on living with epilepsy.
Emrah Turan is 28 years old, and he was born and grew up in the Turkish city of Izmir. He has a Bachelor in sociology from Izmir, and is now a first-year Master's student of Interdisciplinary Media Studies at Bielefeld University. Kristin Nahrmann is 29 years old and was born and grew up close to Bielefeld in Rheda-Wiedenbrück. She is studying a Master's programme in Linguistics at Bielefeld University.
Mümin Baris is a film maker from Istanbul. He first studied film at the Film and TV School of the Academy of Performing Arts (FAMU) in Prague, the capital of the Czech Republic; and last year, he completed his Master's in Film Theory at King's College in London, Great Britain. He now lives and works in Berlin.
Together with Mümin Baris and the newly established association 'Youth on the move Germany – Empower Talents with Epilepsy'. Emrah Turan and Kristin Nahrmann are planning a further film project on 'Epilepsy in Kenya'. Their concept for the film is already complete, and they have also made the necessary contacts in Kenya. To view a detailed presentation of the film project, go to the Internet platform startnext.de (
http://www.startnext.de/epilepsie-in-kenia
).
The Master's degree programme in Interdisciplinary Media Studies is designed to integrate reflectively oriented studies in the humanities with studies oriented toward information technology. The degree programme is based on a cooperation between the following four faculties: The Faculty of
Linguistics and Literary Studies
(text and media production, text technology, communication processes, media history, media aesthetics, media culture), the
Faculty of Educational Science
(media education, new media and learning, media theory, media didactics), the
Faculty of Sociology
(media sociology; communication and media; media and society; media, science, and publicity; media research, media communication), and the
Faculty of Technology
(media design, multimedia databases, image processing, computer graphics and virtual reality, multimodal human–machine interactions).
Contact:
Emrah Turan, Bielefeld University
Interdisciplinary Media Studies
Email: emmojo@gmail.com
Gesendet von NLangohr
in General
Calendar
« May 2013
Sun
Mon
Tue
Wed
Thu
Fri
Sat

1

2

4

5

6

7

8

9

10

11

12

13

14

15

16

17

18

19

20

21

22

23

24

25

26

27

28

29

30

31

Heute
Navigation