uni.news
Published on 15. September 2020
Next step in the strategic partnership with Canada
Due to the pandemic, digital teaching at German universities has developed rapidly in recent months. Bielefeld University can now make particular use of this upswing for its partnership with higher education institutions in the Canadian region of Alberta, thereby pushing ahead withinternational virtual academic cooperation. The 'We CAN Virtu-OWL' project between Eastern Westphalian universities and partner universities in the Alberta region (Canada), which has been approved by the German Academic Exchange Service (DAAD) and is led by Bielefeld University, is being funded by the Federal Ministry of Education and Research (BMBF) with 210,000 euros.
[Weiterlesen]
Posted by JBömer
in General
Published on 3. September 2020
ERC Starting Grants for Professor Dr Martina Hofmanová and Dr Toni Goßmann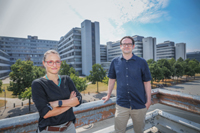 The European Research Council (ERC) has awarded ERC Starting Grants to two researchers from Bielefeld University. They will each receive 1.5 million euros for top-level research in their disciplines. In her project, Professor Dr Martina Hofmanová from the Faculty of Mathematics is investigating fluid flows and studying how they are influenced by randomness. Dr Toni Goßmann from the Faculty of Biology is working on epigenetic programming—that is, he is investigating flexible changes in the genomes that control, for example, which genes are activated in body cells. As recipients of this research funding, Hofmanová and Goßmann now belong to Europe's best young scientists.
[Weiterlesen]
Posted by JHeeren
in General