uni.news
Published on 29. September 2017
Interview with Rektor Professor Dr.-Ing. Gerhard Sagerer on the founding of the Faculty of Medicine
[Weiterlesen]
Posted by JBömer
in General
Published on 22. September 2017
Bielefeld physicists publish in the research journal 'Science'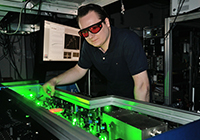 Atoms emit electrons when a material is irradiated with light at a sufficiently high frequency. Previously, physics had assumed that the motion of these photoelectrons is determined by the properties of the material. In a new study, physicists at Bielefeld University have shown that it is the interplay of the electrons within the atom that is decisive. 'Dancing' electrons orbit the nucleus of the atom and require more time than other electrons that shoot out in straight lines. The Bielefeld researchers are the first in the world to confirm the existence of this delay mechanism in a solid. The study has been published this Friday (22.09.17) in the scientific journal 'Science'.
[Weiterlesen]
Posted by JHeeren
in General
Published on 14. September 2017
Bielefeld physicists producing and carrying out research on extra-thin foils


Free-standing carbon membranes that are a millionth of a millimetre thin: these are a special research field of Professor Dr. Armin Gölzhäuser from Bielefeld University and his research group. The nanomembranes can serve as ultrafine filters and as a protective layer. The Bielefeld physicists have registered several patents for manufacturing such molecular foils. In their research, they are analysing which properties the nanomembranes possess – as a basis for future applications. In a new film produced by Bielefeld University's 'research_tv', Armin Gölzhäuser explains what makes the membranes such multi-talents and assesses how significant they may become for the purification of water.
[Weiterlesen]
Posted by JHeeren
in General
Published on 13. September 2017
Vice-Rector Angelika Epple: 'a logical step'
At the end of August, Angelika Epple, Vice-Rector for International Affairs and Diversity, signed the Magna Charta Universitatum on behalf of Bielefeld University during a festive ceremony in the Hungarian city of Pécs. The Magna Charta is a manifesto. By signing it, an institution agrees to abide by fundamental principles such as academic freedom and institutional autonomy. This year, eleven universities have signed; up to now, more than 800 universities have signed worldwide.
[Weiterlesen]
Posted by NLangohr
in General
Published on 12. September 2017
To be awarded to Kohse-Höinghaus, Goldbeck, Soufi, and Hoyer
Four individuals who have rendered outstanding services to Bielefeld University are to be honoured at the 2017 Annual Reception on the 29th of September. The University is introducing two new honorary categories: the Badge of Honour and the Medal of Honour. These join the existing Honorary Senators and Honorary Citizens of the University. 'Up to now, we have exclusively honoured the founder generation. Now, however, we are getting ever closer to the 50th anniversary of the University in 2019, and we realize that it is time to honour a new generation of individuals who have been rendering outstanding services to the University for many years,' explains the Rektor, Prof. Dr.-Ing. Gerhard Sagerer, who is proposing to honour these individuals together with Dr. Matthias Buschmeier, the Deputy Head of the Senate.
[Weiterlesen]
Posted by NLangohr
in General
Published on 11. September 2017
Bielefeld's project at the international iGEM Competition in Boston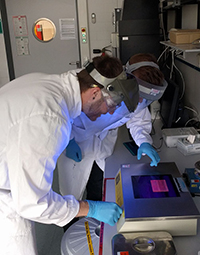 The genetic code forms the basis for all life on our planet by regulating the formation of proteins. Extending this code makes it possible to form new proteins. This can produce organisms with new functions that can be used in, for example, medicine. Fourteen students attending different courses at Bielefeld University have taken on the challenge of extending the genetic code for this year's iGEM Competition in Boston, USA.
[Weiterlesen]
Posted by LThomßen
in General
Published on 7. September 2017
Bielefeld University to coordinate programme with partners from nine countries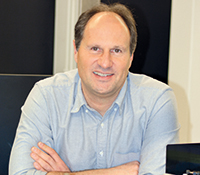 At roughly 3.7 million Euros, the European Commission has now confirmed funding for a new programme in physics and biomedicine. Fourteen young scientists will be studying healthy aging under the microscope: They will be developing new optical procedures to study the liver with high-resolution microscopy. The goal is to find out how medical drugs affect the liver and how the organ changes with advancing age. The project DeLIVER, coordinated by Bielefeld University, will start in January 2018. This is now the seventh Marie Skłodowska-Curie Action (European training network for young academics) at Bielefeld University.
[Weiterlesen]
Posted by JHeeren
in General
Published on 4. September 2017
Twelfth place in the Humboldt Rankings


Bielefeld University holds a leading position in the '2017 Humboldt Rankings'. In the full ranking, it is now twelfth among the 79 universities rated. In the state of North Rhine-Westphalia, this now puts it in third place behind the University of Bonn and RWTH Aachen University.
[Weiterlesen]
Posted by NLangohr
in General