uni.news
Published on 31. August 2017
Bielefeld University and the Bertelsmann Foundation offer the first ever programme of its kind in NRW
Twenty-five trained teachers who had to flee from their home countries have started the 'Lehrkräfte Plus' programme at Bielefeld University. Over the coming 12 months, 8 women and 17 men from Afghanistan, Armenia, Guinea, Iraq, Pakistan, and Syria will be gaining further qualifications that will potentially qualify them to work in schools in North Rhine-Westphalia (NRW). 'Lehrkräfte Plus' is a joint training programme at Bielefeld University in cooperation with the NRW Ministry of Education and Training and the State Coordination Office for Local Integration Centres in NRW. A further partner in the first ever programme of its kind in the federal state is the Bertelsmann Foundation.
[Weiterlesen]
Posted by NLangohr
in General
Published on 9. August 2017
New funding for project run by Bielefeld University and the University of Tennessee at Chattanooga
[Weiterlesen]
Posted by JBömer
in General
Published on 7. August 2017
Chemists at Bielefeld University working on new production methods
[Weiterlesen]
Posted by JBömer
in General
Published on 4. August 2017
Outstanding academic achievements and social commitment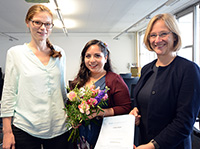 The presenter Dr. Annett Jorschick, the award winner Fiorella Abad Bruzzo, and Vice-Rector Prof. Dr. Angelika Epple (from left) at the DAAD award ceremony. Photo: Bielefeld University
Bielefeld University has given Kiara Fiorella Abad Bruzzo the German Academic Exchange Service (DAAD) award. Professor Dr. Angelika Epple, Bielefeld University's Vice-Rector for International Affairs and Diversity, presented the award. Worth 1,000 Euro, it is funded by the German Federal Foreign Office. It honours international students who stand out through their exceptional academic achievements and their remarkable social, cultural, or political commitment.
[Weiterlesen]
Posted by NLangohr
in General