uni.news
Published on 27. Februar 2020
International project to help determine genetic abnormalities
When new viruses or bacteria spread to humans, it is essential to clarify their special characteristics as quickly as possible. For example, why is the coronavirus resistant to common drugs? In the future, new Big Data technology can help to identify the characteristics of new strains of viruses and bacteria in a short time. It does this by comparing the genome of a single organism with the genome of all the strains of a species. This procedure can also be used for more highly developed organisms such as mammals. The new project 'Pangaia' at Bielefeld University is investigating how the masses of data used in this process can be ordered and analysed for use in biomedicine. The university is one of eleven project partners from Europe and North America. The EU is funding the project with 1.14 million euros over three years.
[Weiterlesen]
Posted by JHeeren
in General
Published on 24. Februar 2020
Further funding for the project based in Bielefeld five years after its start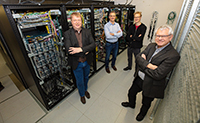 It should be possible for researchers in the life sciences to draw on powerful technological services throughout Germany when they need to analyse large data sets. This is why the Federal Ministry of Education and Research (BMBF) invested about 80 million euros in a major large-scale project: the German Network for Bioinformatics Infrastructure (de.NBI). Bielefeld University is coordinating the project. On Thursday 13 February, scientists and politicians celebrated the fifth anniversary and the previous successes of the network with a symposium in Berlin. These successes include a distributed cloud infrastructure, eight service centres throughout the nation, and 40 participating bioinformatics groups. The BMBF has now announced continued funding for the de.NBI. Until the end of 2021, Bielefeld University alone will have up to 5.3 million euros at its disposal to continue the project.
[Weiterlesen]
Posted by JHeeren
in General
Published on 24. Februar 2020
Closing conference for joint project on radicalization online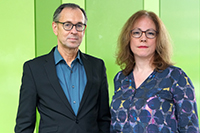 Key players in radical Islamic and extreme right-wing groups make use of similar strategies to mobilize support on social media. The joint research project "X-Sonar" arrived at this finding. The Bundesministerium für Bildung und Forschung (Federal Ministry of Education and Research, BMBF) funded X-Sonar's work as part of their funding line on civil securityresearch. Over the past three years, X-Sonar researchers investigated the ways in which extremist groups build networks of support both online and offline. It is through these groups that they engage people and mobilize support for their aims. The researchers evaluated both online content and the biographies of convicted individuals who were active in extremist spheres in order to pave the way for early intervention and prevention in the future.
[Weiterlesen]
Posted by JHeeren
in General
Published on 20. Februar 2020
The university management is reacting to the current health situation regarding the coronavirus (2019-nCoV) and to the public health emergency of international concern declared by the World Health Organisation (WHO) on January 30, 2020.
[Weiterlesen]
Posted by JBömer
in General
Published on 18. Februar 2020
NRW Ministry and DAAD to continue funding
For the next few years, Bielefeld University can continue its work to integrate students and study applicants with a refugee background. The Ministry of Culture and Science (MKW) in the state of North Rhine-Westphalia (NRW) is making more than 1.2 million euro available to fund the work of the university from now until the end of 2022. The money comes from the programme 'NRWege ins Studium – Integration von Flüchtlingen an Hochschulen in Nordrhein-Westfalen' [Ways to study in NRW – Integration of refugees in universities in North Rhine-Westphalia] that is being coordinated by the German Academic Exchange Service (DAAD).
[Weiterlesen]
Posted by NLangohr
in General
Published on 10. Februar 2020
The German Weather Service (DWD) has now lowered the severe weather warning level for Bielefeld and now only warns of distinctive weather (level 2).
In view of this current weather situation for Bielefeld, the university management has decided to resume normal university operations from 12:00 noon.
Nevertheless, university management would like to ask you to take the weather situation into account when planning your routes today and to watch out for any loose building components or branches.


Posted by NLangohr
in General
Published on 27. Januar 2020
The Bielefeld University Society (UGBi) awards prizes for the best doctoral theses at the university. Topics range from genetic diversity in seals across nanomembranes to a sense of responsibility in artificial intelligence.
[Weiterlesen]
Posted by JHeeren
in General
Published on 7. Januar 2020
More data and better algorithms: predictions are becoming increasingly more accurate and this is changing insurance policies, medicine, and police work.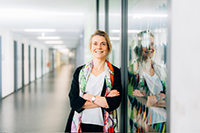 Police that can predict future crimes: it sounds like the plot from the science fiction thriller 'Minority Report' in which Tom Cruise hunts murderers before they can commit their crimes. Such a scenario is not that far distant from reality—already today, for example, the police are using computers to prevent burglaries. 'Predictive policing' aims to use enormous datasets and complex algorithms to predict offences as accurately as possible. Similar developments are to be found in insurance and medicine. Here as well, more data and better algorithms are making more accurate and more individualized predictions. Car insurance, for example, is using data collected on driving style when calculating tariffs; and cancer medicine is promising personalized treatment methods for patients with specific genetic characteristics.
[Weiterlesen]
Posted by HMetzen
in General
Published on 20. Dezember 2019
Bielefeld University to coordinate European research network


Doctors treat tumours mainly through surgery, radiotherapy, and chemotherapy. Over the next four years, a new project of Bielefeld University and 14 European partners will be studying targeted cancer treatments. The idea is that special molecules will track tumour cells in the body and then deliver an active agent that ensures that the cancerous cells are removed. Fifteen doctoral students will be working together in the 'Magicbullet::Reloaded' research network. The project is a cooperation between universities, research institutes, and industry. It is being funded by the European Union with a budget of around four million euro.
[Weiterlesen]
Posted by JHeeren
in General
Published on 20. Dezember 2019
German Research Foundation (DFG) funds new Research Unit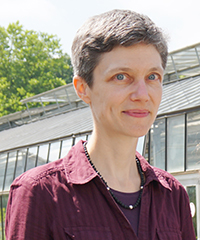 Plants are often very individual when it comes to their specific defence chemicals and other metabolites. Such chemical diversity (chemodiversity) can be found both in different plants of the same species and within an individual plant. The German Research Foundation (DFG) is providing a Research Unit led by Bielefeld University with around two million euros in funding to explore the chemodiversity of plants. The chemical composition of plants can impact the foodwebs of a plant as well as its environment and biological interactions. Spokesperson for the DFG Research Unit is Professor Dr Caroline Müller from the Faculty of Biology at Bielefeld University; her deputy is junior professor Dr Meike Wittmann, also from the Faculty of Biology.
[Weiterlesen]
Posted by JHeeren
in General