uni.news
Published on 20. Dezember 2019
German Research Foundation (DFG) funds new Research Unit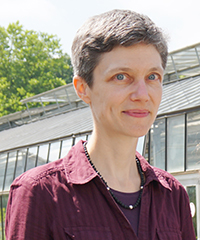 Plants are often very individual when it comes to their specific defence chemicals and other metabolites. Such chemical diversity (chemodiversity) can be found both in different plants of the same species and within an individual plant. The German Research Foundation (DFG) is providing a Research Unit led by Bielefeld University with around two million euros in funding to explore the chemodiversity of plants. The chemical composition of plants can impact the foodwebs of a plant as well as its environment and biological interactions. Spokesperson for the DFG Research Unit is Professor Dr Caroline Müller from the Faculty of Biology at Bielefeld University; her deputy is junior professor Dr Meike Wittmann, also from the Faculty of Biology.
[Weiterlesen]
Posted by JHeeren
in General
Published on 16. Dezember 2019
• Professor Dr-Ing. Gerhard Sagerer elected to the Foundation Board of the Universität zu Lübeck
• Professor Dr Marcelo da Costa Pinto Neves receives a Humboldt Research Award
• Professor Dr Armin Gölzhäuser is appointed a Fellow of the American Vacuum Society
• Professor Dr Krzysztof Redlich receives an honorary doctorate from the Faculty of Physics
• Privatdozent Dr Nadine Böhm-Schnitker is awarded a Habilitation Prize
• Four researchers at Bielefeld University elected to DFG Review Boards
[Weiterlesen]
Posted by HMetzen
in General
Published on 5. Dezember 2019
Posted by JBömer
in General
Published on 5. Dezember 2019
New vice-rectorate for Personnel Development and Gender Equality and new vice-rector for Education and Teaching

Today (29/11/2019) saw the election of five vice-rectors. Two of them are new to the office, and one vice-rectorate has been newly created. Professor Dr Birgit Lütje-Klose is one of those newly elected; she succeeds Professor Dr Claudia Riemer as vice-rector for Education and Teaching. Also new is Professor Dr Marie I. Kaiser, who assumes the newly created vice-rectorate for Personnel Development and Gender Equality. The incumbents of the other vice-rectorates retain their positions: Professor Dr Martin Egelhaaf, Research and Research Transfer, Professor Dr Angelika Epple, International Affairs and Diversity, and Professor Dr Reinhold Decker, Information Infrastructure and Business Relations. The new vice-rectorate's term of office begins immediately and runs for four years.
[Weiterlesen]
Posted by HMetzen
in General
Published on 5. Dezember 2019
New funding format at ZiF
Science needs diverse perspectives. However, researchers from African countries are still underrepresented in the international scientific community. In order to increase the diversity of perspectives in the ZiF research groups and to make African researchers more visible, the Center for Interdisciplinary Research (ZiF) is now offering two scholarships per year for researchers from Africa: the Norbert Elias Fellowships.
[Weiterlesen]
Posted by JBömer
in General
Published on 3. Dezember 2019
15th Brunel–Bielefeld Workshop at the Center for Interdisciplinary Research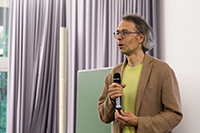 What are the characteristic features of randomness? Mathematicians and physicists are working together to explore this issue at the 15th Brunel–Bielefeld Workshop on 'Random matrix theory and applications' from 5 to 7 December. Random matrices are arrangements of numbers in the form of tables whose values are selected at random. They help to solve major mathematical problems or to better understand physical systems. The workshop is being financed by the Center for Interdisciplinary Research (ZiF) and the Collaborative Research Centre 'Taming uncertainty and profiting from randomness and low regularity in analysis, stochastics and their applications' (CRC 1283). Professor Dr Gernot Akemann from the Faculty of Physics at Bielefeld University is organizing the workshop together with scientists from Brunel University and Imperial College London (Great Britain).
[Weiterlesen]
Posted by HMetzen
in General
Published on 29. November 2019
Work starts for a Europe-wide network of laboratory schools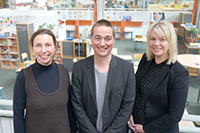 How do children learn co-determination in their schools and how do they cope with all the diversity of opinions, abilities, and cultural differences? This is just one of the questions being addressed by the new project LabSchoolsEurope. It is being coordinated by Bielefeld University that initiated the project together with Bielefeld's Laborschule [laboratory school]. Researchers and teachers are cooperating in the project to develop innovations in democratic education for dealing with heterogeneity in primary schools. Universities and schools are working together at five locations—in Austria, the Czech Republic, England, France, and Germany. The project is being funded by Erasmus+, the European Union programme for education, youth, and sport.
[Weiterlesen]
Posted by JHeeren
in General
Published on 6. November 2019
Bielefeld University's anniversary conference on 14 and 15 November
Be it relativity theory, systems theory, or game theory: to this day, great theories are the figureheads of science. But are algorithms replacing them with automated data analyses? This is the topic of the conference celebrating 50 years of Bielefeld University on 14 and 15 November. Its title: 'The Theoretical University in the Data Age. Have the Great Theories Become Obsolete?'
[Weiterlesen]
Posted by JHeeren
in General
Published on 29. Oktober 2019
A new study commissioned by the World Health Organization (WHO) and conducted by researchers at the University Bielefeld and University Hospital Heidelberg shows data gaps and policy options for the 53 Member States.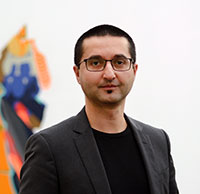 The WHO Regional Office for Europe has commissioned a new report reviewing evidence on the availability and integration of data for health and health care among refugees and migrants in health information systems across the WHO European Region. Results are in-tended to support the 53 Member States by informing national policies and international cooperation activities to improve refugee and migrant data. The research was conducted under the leadership of Professor Dr. Kayvan Bozorgmehr, Department of Population Medi-cine and Health Services Research and research group leader at the University Hospital Heidelberg.
[Weiterlesen]
Posted by NLangohr
in General
Published on 18. Oktober 2019
Conference to be held at Cluster of Excellence CITEC from 24–25 October
Artificial intelligence attempts to emulate human problem-solving abilities. That said, "thinking" technical systems are not automatically able to put themselves in other people's shoes and interact with them according to the particularities of the situation. With the establishment of the Cluster of Excellence Cognitive Interaction Technology 12 years ago, researchers began working on developing technology that adapts to the human user. At the 2019 CITEC Conference from 24–25 October 2019, re-searchers will present the fruits of their research and discuss how their approaches can contribute to future advancements in the field of cognitive interaction technology. The conference, which will be held at the CITEC Building, is called "Cognitive Interaction Technology Meets AI." Renowned robotics researchers Professor Dr. Hiroshi Ishiguro from Japan and Dr. Guilio Sandini of Italy will deliver the keynote lectures. Both talks will be open to the public.
[Weiterlesen]
Posted by JBömer
in General