uni.news
Published on 2. Juli 2020
The question is answered by a researcher, a staff member and a student at the university
Innovative research and teaching in a network of six young European universities away from the big metropolises: With this vision, the university, together with five partner universities, is applying to become a "European university". What does Europe mean for research, studying and working at university? The question is answered by a researcher, a staff member and a student at the university.
[Weiterlesen]
Posted by JBömer
in General
Published on 12. Juni 2020
Bielefeld University coordinating programmes in computer science and economics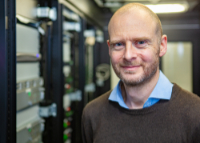 The European Commission has funded two new doctoral training networks for early career researchers at Bielefeld University. Over the next four years, doctoral researchers in computer science will be investigating how genomes can be sequenced and analysed, and doctoral researchers in economics will be developing computer-assisted methods of political analysis for the areas of climate change and innovation. Both programmes have been awarded close to eight million Euro in funding. In addition to this, two more doctoral training networks in which Bielefeld University is participating have also been approved: one in personalised service robotics, and the other in social work.
[Weiterlesen]
Posted by FFollmer
in General
Published on 9. Juni 2020
Bielefeld University, together with five other universities, is applying for the title "European University". The decision will be made in July. In an interview, Professor Angelika Epple, Vice Rector for International Affairs and Diversity, explains the background.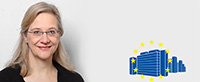 [Weiterlesen]
Posted by JBömer
in General
Published on 29. Mai 2020
Researchers develop biotechnological production process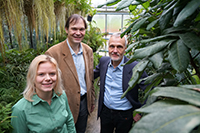 Plants produce the hormone jasmonic acid as a defence response when challenged. This is how they ensure that their predators no longer like the taste of their leaves. Biologists want to find out whether biological precursors and other variants of jasmonic acid lead to similar or different effects. But such derivatives of the hormone have so far been too expensive for experiments and difficult to come by. Researchers from the Faculties of Chemistry and Biology at Bielefeld University have now found a method that might make the production of a biologically significant precursor of jasmonic acid more efficient and cheaper. Their innovation: they imitate how plants produce the hormone. The result is 12-OPDA, a central precursor of jasmonic acid. In the long term, it could also be a potential precursor for high-quality perfume. The researchers present their method today (29.05.2020) in the research journal Advanced Science.
[Weiterlesen]
Posted by JHeeren
in General
Published on 29. Mai 2020
Fibre laser microscopy to be used in clinical applications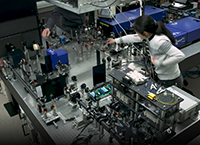 When investigating how tumors grow, or how pharmaceuticals affect different types of cells, researchers have to understand how molecules within a cell react – and interact. This is possible with modern laser microscopy. Until now, however, molecules in cell specimens had to be labelled with fluorescent substances in order to make them visible, and this can distort the very behavior of the molecules. Research groups from Bielefeld University and the University of Hong Kong have developed a laser microscope that works without having to label the molecules. For this, the researchers innovated a unique compact fibre laser instead of the solid-state lasers that had previously been used. The new microscope generates far less noise when in use than customary designs, making it suitable for use in operating rooms. The researchers presented their innovative technology in the journal 'Light: Science and Applications,' which is published by Springer Nature.
[Weiterlesen]
Posted by JHeeren
in General
Published on 15. Mai 2020
New ZiF research group on the effects of digital media
Social media is changing communication just as much as the dissemination of news. Radical positions that used to be voiced in the private sphere can now reach a worldwide audience. The research group "Multimodal Rhetoric in Online Media Communications" at the Center for Interdisciplinary Research (ZiF) at Bielefeld University will investigate how sub-communities and other interested parties create, manage and disseminate information across media platforms. The researchers will focus specifically on the role of language, images and videos in this process. The group starts on May 18, with a virtual opening conference. The aim is to develop analysis tools that will allow us track the development and flow of different kinds of information, particularly false information, across media platforms.
[Weiterlesen]
Posted by JBömer
in General
Published on 17. April 2020
Cooperation among Bielefeld University, University of Applied Sciences Bielefeld & v. Bodelschwingh Foundation Bethel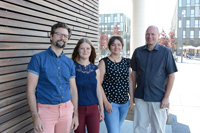 Methods of artificial intelligence (AI) and machine learning are increasingly being used to support the human decision-making process. Researchers from Bielefeld University's CITEC institute are working together with researchers from the Faculty of Social Sciences at the University of Applied Sciences Bielefeld to investigate the opportunities and risks of using algorithm-based recommendations for decision-making in the field of social services. For this, the academic researchers are partnering with the v. Bodelschwingh Foundation Bethel. The Ministry of Culture and Science of the German State of North Rhine-Westphalia is supporting the project as part of the Digital Society research program.
[Weiterlesen]
Posted by JHeeren
in General
Published on 7. April 2020
Daily Estimates for the Spread of COVID-19
A new website tracking the COVID-19 epidemic which is updated daily allows everyone to stay informed about the speed of epidemic spread in Germany and the rest of the world. To this end, scientists of Technische Universität Ilmenau cooperate with public health scientists of Universität Bielefeld to estimate the reproduction number, i.e. the mean number of people one infectious person will in turn infect. It allows to quantify the impact of the countermeasures that have been imposed, and also to continuously track the epidemic's progress over time. As such it is an important tool for policymakers.
[Weiterlesen]
Posted by NLangohr
in General
Published on 6. April 2020
Bielefeld researchers call attention to scientists experiencing political repression in the journal Science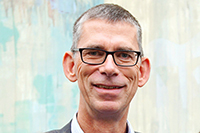 The World Health Day, which is held on 7 April is meant to highlight the importance of healthcare and disease prevention around the world. In many countries, however, these public health objectives are under threat. Researchers from Bielefeld University diagnosed this problem in a recent 'Letter to the Editor' published in the journal Science. As argued by the research team, the Coronavirus crisis lays bare just how essential evidence-based research is – and how dangerous it is for public health when information on disease from scientists and medical professionals becomes subject to political repression.
[Weiterlesen]
Posted by JHeeren
in General
Published on 12. März 2020
Bielefeld University heading EU project on ultra-thin membranes
Researchers and engineers from seven countries want to develop special filters on the nano scale. They are cooperating in a new project that has now been approved by the European Union. The new filters are to produce ultrapure water for applications in, for example, industry and research. At the same time, they should make it possible to extract water from liquids such as milk or fruit juice to produce concentrates. The project is being funded with a total of three million euros. Bielefeld University will be in charge of the research cooperation that will run until 2023.
[Weiterlesen]
Posted by JHeeren
in General