uni.news
Published on 22. Juli 2020
Bielefeld University's rectorate has made its decision on applications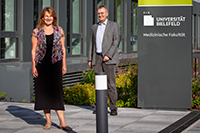 Applications to Bielefeld University's Medical Research Start-up Fund (AMF [Anschubfonds Medizinische Forschung]) had to be submitted by April. The university's rectorate has now reviewed the recommendations of the selection committee and made its decision. In the first funding round, the AMF will support six collaborative projects. The new projects involve technical applications for rehabilitation, the microbiome in the treatment of chronic rhinosinusitis, eye-tracking in the diagnosis of strokes, artificial intelligence in the aftercare of hear-ing prostheses, sleep promotion as a preventive measure as well as the improved care of patients with chronic pain. The AMF is designed to contribute to the further development of the new faculty's medical research profile. The fund promotes collaboration between Bielefeld University scientists and physicians at OWL University Hospital (UK OWL) as well as physicians with their own practice in OWL.
[Weiterlesen]
Posted by FFollmer
in General
Published on 22. Juli 2020
The JAII will conduct research into human-centred technology suitable for everyday use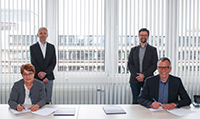 Voice assistants, smart homes, or industrial 4.0 systems: artificial intelligence (AI) is increasingly automating processes in a wide variety of living and working environments. However, AI systems often prove to be not particularly competent because they lack either background or contextual knowledge, are unable to assess the scope and implications of assumptions and decisions, and cannot explain their actions. In the Joint Artificial Intelligence Institute (JAII), the two universities at Bielefeld and Paderborn are combining their research competencies in this field of research. The universities jointly founded the institute on July 14, 2020. In the JAII, future research will address the fundamentals of AI systems designed to focus on people. The aim is for AI systems to support people as competent partners and enable them to solve everyday problems better and more reliably than before.
[Weiterlesen]
Posted by FFollmer
in General
Published on 21. Juli 2020
An economic study is examining what prevents companies from producing in eco-friendly ways. Governments must take these barriers into account if they want to promote alternative processes.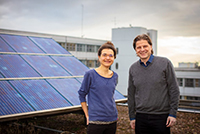 Industrial companies are fighting to survive as a result of the coronavirus pandemic. One suggestion is to support the German economy by linking environmental and climate targets with economic stimulus packages. What chance does climate policy have of influencing technological change towards green technology? This is one of the questions posed by a study at Bielefeld University's Faculty of Business Administration and Economics. It is using a model to imitate the economy of a typical state in the European Union.
[Weiterlesen]
Posted by FFollmer
in General
Published on 20. Juli 2020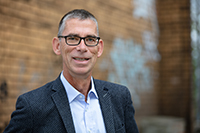 The kind of accommodation given to refugees may impact on their health. But it is not just housing conditions that are important, says public health scientist Oliver Razum, it is also freedom of movement and being able to make one's own decisions. Excessive controls, in contrast, could turn the time spent in the host country into a torment and a health risk. Oliver Razum repeatedly returns to one pivotal sentence: 'Refugees must have the chance to shape their lives themselves.' Any assistance that is ultimately a disempowerment is not really help at all: it paralyses and frustrates. The scientist also calls for refugees to be granted the same access to healthcare as the majority population.
[Weiterlesen]
Posted by FFollmer
in General
Published on 16. Juli 2020
German Research Foundation (DFG) approves five million euros in funding
The International Research Training Group 'Searching for the regular in the irregular: Analysis of singular and random systems' (IRTG 2235) is being funded by the German Research Foundation for another four and a half years. The German Research Foundation is thus investing an additional five million euros in academic training and the exchange of doctoral students between Bielefeld University and Seoul National University.
[Weiterlesen]
Posted by JHeeren
in General
Published on 13. Juli 2020
Researchers at Bielefeld University present accelerated procedure
Currently, it takes more than two hours to perform and evaluate a test for SARS-CoV-2—meaning that a laboratory can test only a very limited number of people per day. In a study with several cooperation partners, cell biologists at Bielefeld University have now developed a method that delivers results around ten times faster. 'The test takes only about 16 minutes,' says Professor Dr Christian Kaltschmidt from Bielefeld University's cell biology research group. 'The method is also cheaper than conventional tests.'
[Weiterlesen]
Posted by JHeeren
in General
Published on 2. Juli 2020
The question is answered by a researcher, a staff member and a student at the university
Innovative research and teaching in a network of six young European universities away from the big metropolises: With this vision, the university, together with five partner universities, is applying to become a "European university". What does Europe mean for research, studying and working at university? The question is answered by a researcher, a staff member and a student at the university.
[Weiterlesen]
Posted by JBömer
in General
Published on 12. Juni 2020
Bielefeld University coordinating programmes in computer science and economics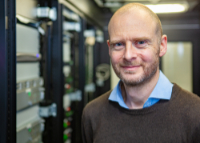 The European Commission has funded two new doctoral training networks for early career researchers at Bielefeld University. Over the next four years, doctoral researchers in computer science will be investigating how genomes can be sequenced and analysed, and doctoral researchers in economics will be developing computer-assisted methods of political analysis for the areas of climate change and innovation. Both programmes have been awarded close to eight million Euro in funding. In addition to this, two more doctoral training networks in which Bielefeld University is participating have also been approved: one in personalised service robotics, and the other in social work.
[Weiterlesen]
Posted by FFollmer
in General
Published on 9. Juni 2020
Bielefeld University, together with five other universities, is applying for the title "European University". The decision will be made in July. In an interview, Professor Angelika Epple, Vice Rector for International Affairs and Diversity, explains the background.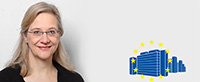 [Weiterlesen]
Posted by JBömer
in General
Published on 29. Mai 2020
Researchers develop biotechnological production process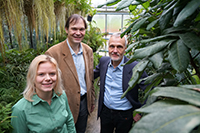 Plants produce the hormone jasmonic acid as a defence response when challenged. This is how they ensure that their predators no longer like the taste of their leaves. Biologists want to find out whether biological precursors and other variants of jasmonic acid lead to similar or different effects. But such derivatives of the hormone have so far been too expensive for experiments and difficult to come by. Researchers from the Faculties of Chemistry and Biology at Bielefeld University have now found a method that might make the production of a biologically significant precursor of jasmonic acid more efficient and cheaper. Their innovation: they imitate how plants produce the hormone. The result is 12-OPDA, a central precursor of jasmonic acid. In the long term, it could also be a potential precursor for high-quality perfume. The researchers present their method today (29.05.2020) in the research journal Advanced Science.
[Weiterlesen]
Posted by JHeeren
in General